During an MSNBC town hall Wednesday evening, Republican presidential candidate Donald Trump caught Apple in his crosshairs, saying that, if he was president, he would "force" the company to work with the government to hack into an iPhone beloning to one of the San Bernardino, California, killers.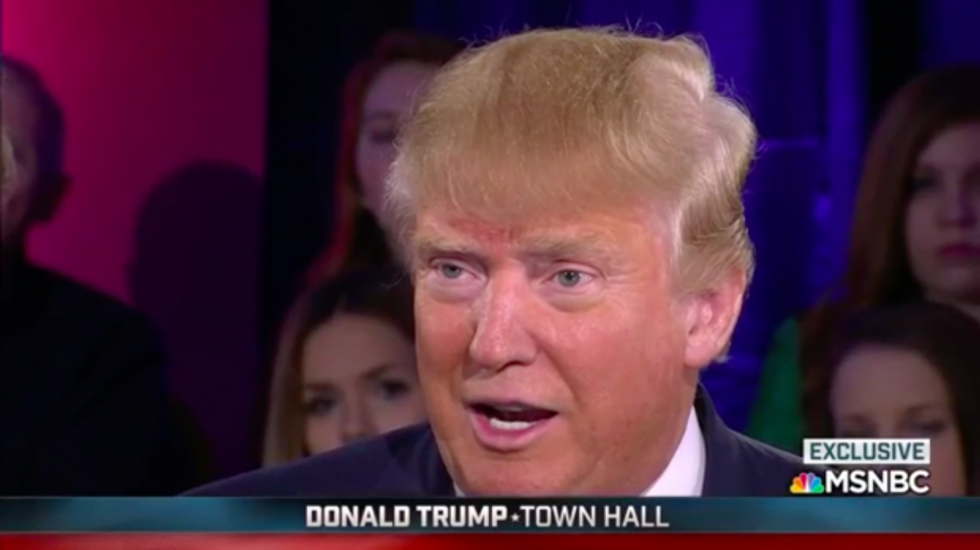 Donald Trump participates in MSNBC town hall Wednesday, Feb. 17. (Image source: MSNBC/Twitter)
Apple CEO Tim Cook made headlines Wednesday when he announced that his organization will fight a federal magistrate's order to assist the FBI in its effort to get information from the encrypted phone.
When MSNBC host Joe Scarborough asked the billionaire businessman what he thought of Cook's decision not to assist the FBI, Trump said it was "disgraceful."
"I have always felt security first. Apple should, we should force them to do it. We should do whatever we have to do," Trump said.
As for why the Apple CEO is choosing to fight the order, Trump says it's because Cook is "being a good liberal" who "doesn't want to give the information."
The leading Republican candidate doubled down moments later, telling Scarborough that Apple is "absolutely in the wrong" on this issue because the FBI needs details about the killers and information surrounding the event that left 14 people dead.
"As an example, those two people killed 14 people. There were other people that saw bombs laying all over the floor. ... People knew that. I'd like to know who else knew that, because they're almost as guilty, and maybe just as guilty," Trump said.
"I think you have to be able to crack that and I think Apple is absolutely in the wrong," the concluded.
Watch the video:
.@realDonaldTrump: Apple is absolutely in the wrong #TrumpSCTownHall https://t.co/vAHBhOS3uj

— Morning Joe (@Morning_Joe) February 18, 2016
—
Follow the author of this story on Twitter: