Famed fighter Manny Pacquiao, an outspoken Christian, was fired Wednesday by Nike after "comparing homosexuals to animals."
Pacquiao, who has served on the house of representatives in the Philippines and is currently running for senate, said in a recent interview, "It's common sense. Will you see any animals where male is to male and female is to female?"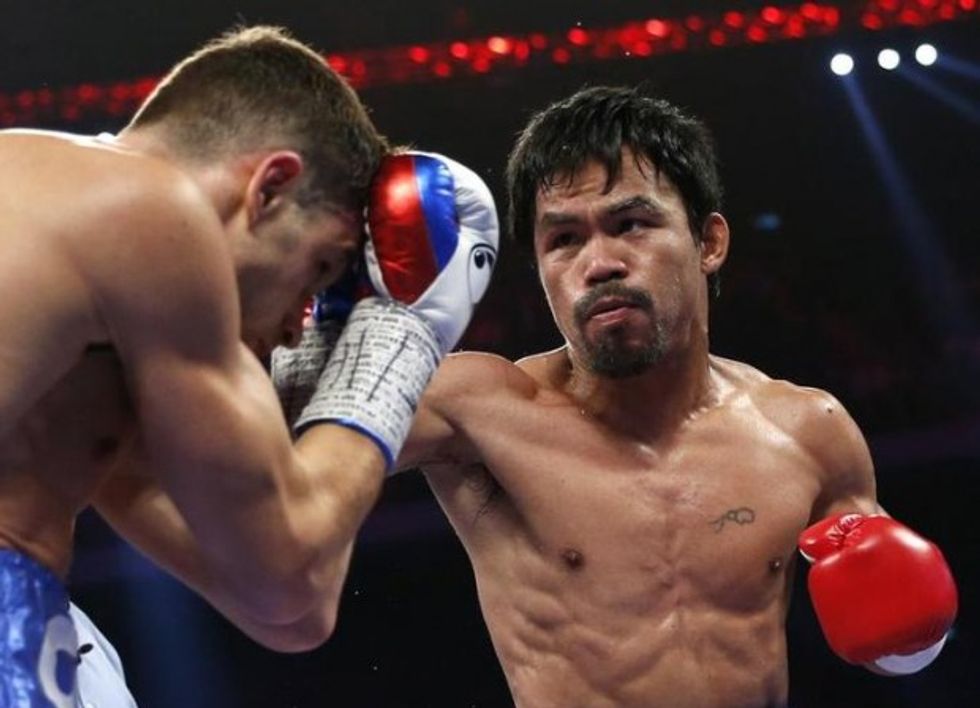 WBO welterweight champion Manny Pacquiao of the Philippines and WBO junior welterweight champion Chris Algieri of the U.S., left, exchange punches during their world welterweight title boxing match at the Venetian Macao in Macau, Sunday, Nov. 23, 2014. Pacquiao got the big knockdowns he so desperately craved, battering Algieri around the ring at will Sunday on his way to a decision win in one of the most lopsided welterweight title fights imaginable. (AP Photo/Kin Cheung)
"The animals are better. They know how to distinguish male from female. If we approve [of] male on male, female on female, then man is worse than animals," he continued.
Following backlash for his comments, Pacquiao released a Facebook video apologizing for "comparing homosexuals to animals," adding that he is still against same-sex marriage but said he is not "condemning LGBT."
But the fighter's apology was not enough to stop Nike from terminating its relationship with him.
"We find Manny Pacquiao's comments abhorrent," Nike said in a statement. "Nike strongly opposes discrimination of any kind and has a long history of supporting and standing up for the rights of the LGBT community."
Nike went on to say the organization "no longer has a relationship" with Pacquiao.
Resources close to the situation told TMZ that Pacquiao personally tried to salvage the relationship all the way up to the last moment. Several members of the fighter's team were in contact with Nike officials throughout the day.
None of it, however, seemed to make a difference.
—
Follow the author of this story on Twitter: