"Is this bothering you?" Fox News host Shepard Smith asked his listeners Wednesday afternoon before bringing his show to a stand still to investigate a strange noise coming from inside his studio.
"It's bothering me," Smith continued as he started walking through the studio, which is on the 12th floor of a building in New York City, taking viewers to where the noise was coming from. The Fox News anchor said the studio is "always quiet and nice," but that wasn't the case Wednesday.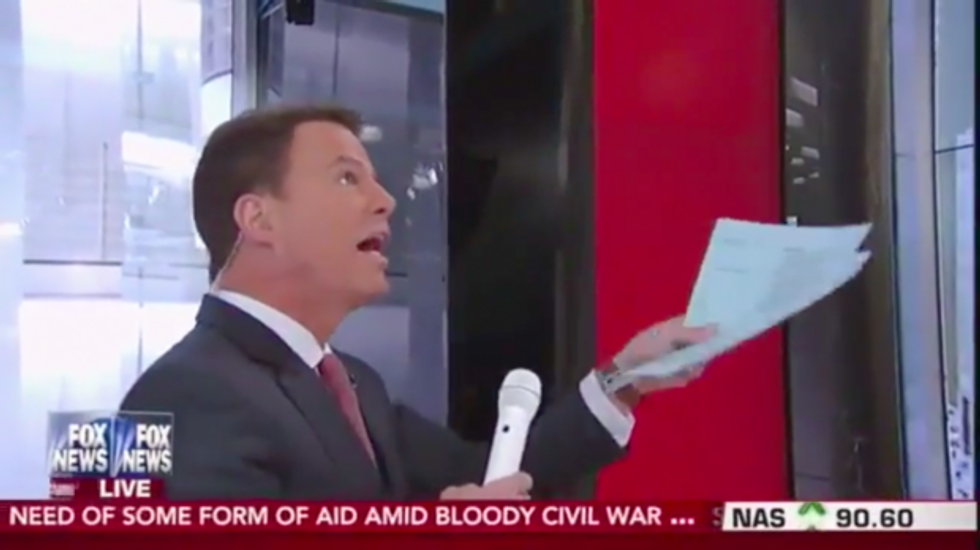 Shepard Smith investigates strange noise during his daily show Wednesday, Feb. 17. (Image source: Fox News/YouTube)
"All of my friends are here, checking on things to make sure they're right. We have a noise," Smith said, holding his microphone up to the wall where he heard the sound. "You hear this? I wonder if there's an animal in there."
Smith told viewers that the lobby image in his studio is a set piece, and reiterated the fact that the studio is 12 stories above the ground, and, therefore, he found it unlikely that an animal could be causing the distracting noise.
"Somebody's in the wall," he finally concluded, still somewhat perplexed. "Fox security, would you get on that please?"
Watch the video:
—
Follow the author of this story on Twitter: