Republican presidential candidate Donald Trump, who has lead the national polls since launching his campaign last summer, has fallen behind his chief GOP rival Texas Sen. Ted Cruz in a new NBC/Wall Street Journal poll released Wednesday.
In the poll, Cruz is the first choice of 28 percent of Republican primary voters, followed by Trump with 26 percent of the vote. From there, Florida Sen. Marco Rubio is at 17 percent, Ohio Gov. John Kasich at 11 percent, retired neurosurgeon Ben Carson at 10 percent and former Florida Gov. Jeb Bush at 4 percent.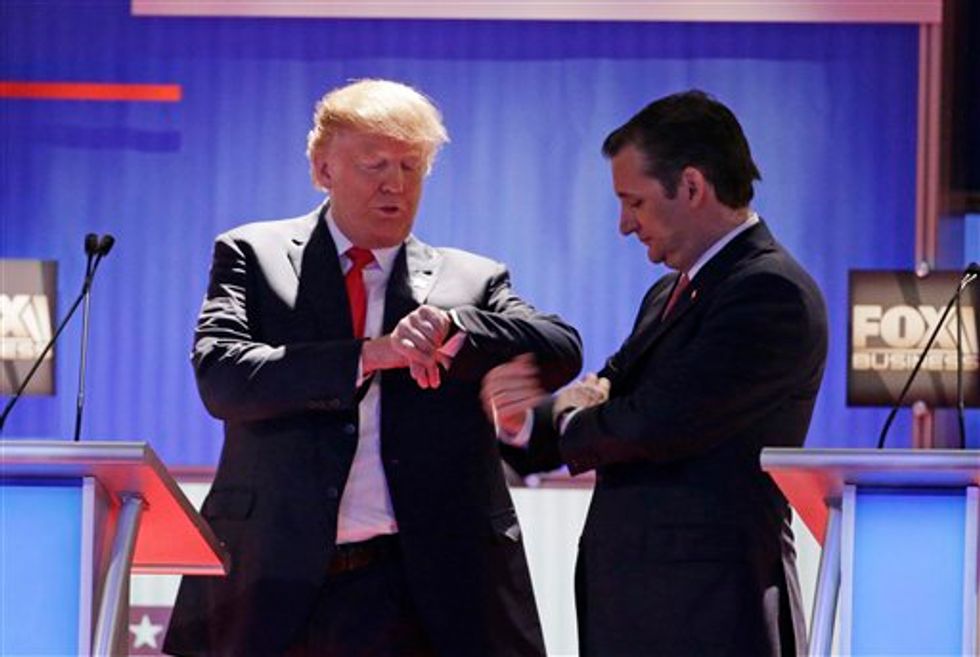 Donald Trump speaks to Ted Cruz at a break during the Fox Business Network Republican presidential debate at the North Charleston Coliseum, Thursday. (AP/Chuck Burton)
The poll was conducted after Trump's New Hampshire primary victory and Saturday's Republican presidential debate in South Carolina, where the billionaire businessman enjoys a commanding 19-point lead.
Some have described the new poll, which has a margin of error of 4.9 percentage points, as an outlier in light of a Quinnipiac University national poll also released Wednesday that shows Trump with 39 percent of the vote, a 21-point lead over Rubio.
According to Republican pollster Bill McInturff, who conducted the NBC/WSJ poll with Democratic pollster Peter Hart and his firm Hart Research Associates, Trump's decline could signal a coming "shift in the campaign."
"When you see a number this different, it means you might be right on top of a shift in the campaign. What you don't know yet is if the change is going to take place or if it is a momentary 'pause' before the numbers snap back into place," McInturff said.
He did note that when Trump has dipped in the past, "he bounced back stronger." However, one possible explanation the pollsters offered as to why Trump is down in the new poll is because of an increase in "very conservative" Republican voters since January's sample.
In addition to Trump's drop in the GOP race, the WSJ/NBC poll also shows a 9-point decline in the percentage of Republican primary voters who can see themselves supporting the billionaire candidate, from 65 percent in January to 56 percent now.
And in hypothetical head-to-head matchups, Trump also declined.
Trump trails Cruz 56 percent to 40 percent and Rubio 57 percent to 41 percent. In January, Trump was ahead of Rubio by seven points and behind Cruz by eight points.
—
Follow the author of this story on Twitter: