Republican presidential hopeful Donald Trump boasted Wednesday morning that if his immigration policies had been put in place prior to Sept. 11, 2001, then the terrorist attacks of that day would have been thwarted.
"There's nobody stronger on the borders than I am," Trump said on Fox News' "Fox and Friends" via telephone. "Had my immigration policy been put forth, you wouldn't even have had these people in the country."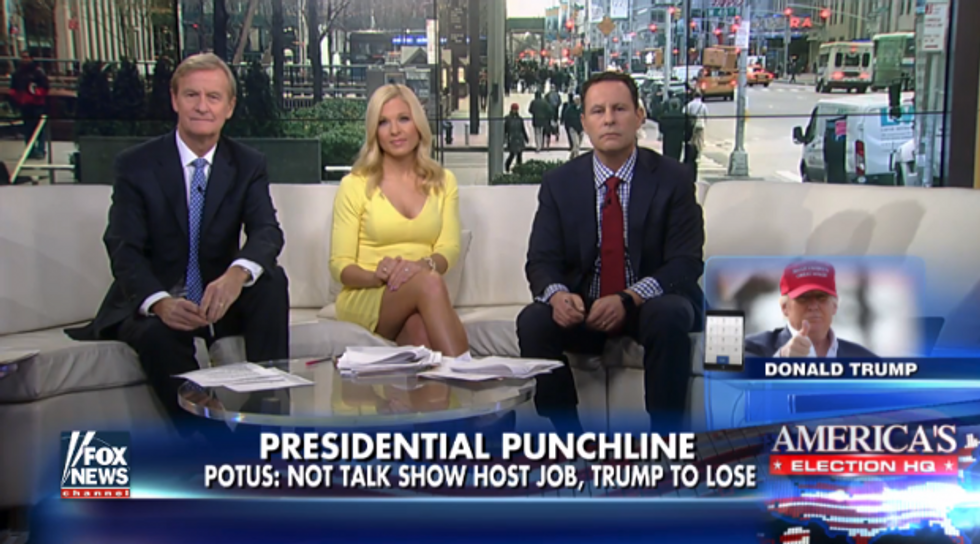 Image source: Fox News
But when asked by show co-host Brian Kilmeade how his policies would have specifically prevented 9/11, the Manhattan mogul invoked the Bush administration and the "tremendous disorganization" at the senior levels of the intelligence agencies.
"In nine months, you would have swept up every person overstaying their visa?" Kilmeade asked Trump.
"Those people would not have been in the country had my policies been in tact," the billionaire businessman sternly replied.
After the tense exchange, Kilmeade looked down and shook his head in disbelief, as his fellow co-host Steve Doocy asked Trump a different question.
Later in the lengthly interview, Trump responded to criticism from President Barack Obama, who said Tuesday that he "continues to believe that Mr. Trump will not be president." Trump labeled the criticism a "badge of honor."
"He's going to go down as one of the worst, perhaps the worst, president in the history of the United States," he said. "And, you know, it's interesting, when they make those statements, that means that, in a way, it's a badge of honor, because that's the one that they're looking at."
Watch Trump's full "Fox and Friends" interview below:
—
Follow the author of this story on Twitter and Facebook:
[facebook //www.facebook.com/plugins/like.php?href=