GREENVILLE, S.C. — There's a problem that Americans — as a society and as a nation — need to address, according to Republican presidential contender Marco Rubio.
"There is a significant number of particularly young African-American males who feel as if they're treated differently than the rest of society," Rubio said Thursday night during CNN's GOP presidential town hall.
"Whether you agree with them or not, if a significant portion of the American family believes that they are being treated differently than anyone else, we have a problem, and we have to address it as a society and country because I do not believe that we can fulfill our potential as a nation unless we address that," Rubio said.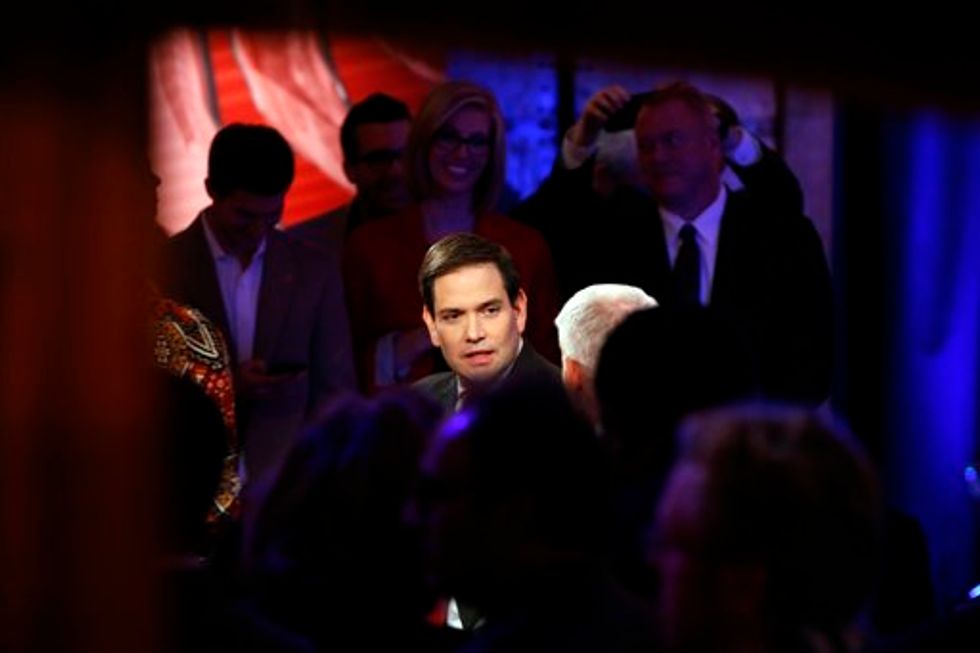 Republican presidential candidate, Sen. Marco Rubio, R-Fla., talks with Anderson Cooper during a commercial break at a CNN town hall event, Tuesday, Feb. 16, 2016, in Greenville, S.C. (AP Photo/Paul Sancya)
The Florida senator told those gathered at the Old Cigar Warehouse in downtown Greenville that he has an acquaintance who is a young black police officer. Rubio said that the young man has gotten pulled over "seven, eight times in the last few years and never gotten a ticket."
"What is she supposed to think? He gets pulled over, never gets a ticket and no one has any explanation for why he's being pulled over," Rubio said. "What is he supposed to think?"
"I'm not sure there's a political solution to that problem, but there are things we can do," Rubio said.
Rubio argued that a disproportionate number of children in the U.S. are now growing up in broken homes, which affects not only the black community, but Hispanics as well. He continued to slam "dangerous neighborhoods" and "substandard housing" where children are "forced by the government to attend a failing school."
"A child that's born with four strikes against them is going to struggle to succeed unless something breaks that cycle," Rubio said.
"I do believe that, as a society, we have to confront this issue in a responsible way," he continued. "Because, ultimately, if a significant percentage of the American family feels that they are locked out of the promise of America, we will never be able to fulfill our destiny as a great nation."
Rubio told CNN host Anderson Cooper that while he has seen instances of racism or inequality in his own life, he applauded the Republican Party for the diversity of his own endorsements.
"Here's what's simply amazing. In my campaign for president today, I got the endorsement of a governor of Indian descent who endorsed a presidential candidate of Cuban descent, and tomorrow we'll be campaigning alongside an African-American Republican senator," Rubio said. "All three are doing that here in South Carolina. That says a lot about the Republican Party."
Rubio said that he gave his parents a lot of credit for never teaching their children to become victims, even when faced with bullying from other children.
The Florida lawmaker is polling third in South Carolina with 16.8 percent of the vote, behind businessman Donald Trump and Texas Sen. Ted Cruz.
Watch Rubio's remarks below:
"Here is what is simply amazing..."

Watch @MarcoRubio discuss race in the @GOP: pic.twitter.com/SdO5eGvJMk

— Nate Brand (@NateRBrand) February 18, 2016
—
Follow Kaitlyn Schallhorn (@K_Schallhorn) on Twitter