After an intruder threw a chuck of concrete through his baby daughter's window, a Nebraska father's rage led him to chase him down.
According to KETV-TV, James Walmsley and his wife Laura describe him "as even-tempered," but he "lost it" when he realized that Francis may have been hurt.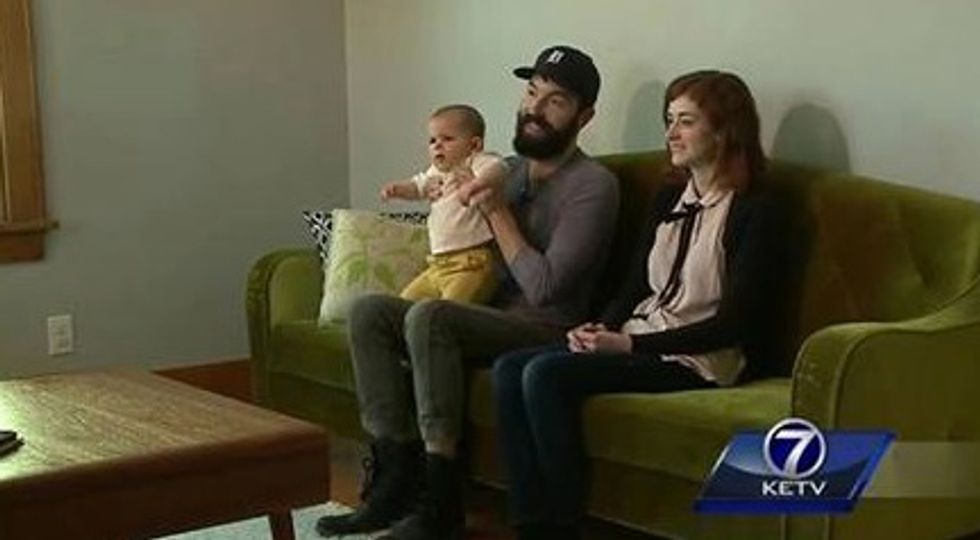 James and Laura Walmsley with their daughter Francis (Image source: KETV-TV)
"This animalistic, paternal rage, you know, came over me," Walmsley told KETV.
"I went to investigate Francis' room. There was glass everywhere," he said. "I ran back out into the kitchen and made eye contact with the intruder through the back door."
Walmsley grabbed a hammer and chased the intruder down the snowy street in bare feet. "It felt like I was running on my ankles at some point, running over snow and ice," he said.
A utility worker who witnessed the chase called police, who promptly arrested the 17-year-old suspect.
Walmsley said that Francis was not harmed, although upon his return home, he found shards of glass in her crib.
"When I walked in the room, she was standing right here," Walmsley said. "I walked in and she said, 'Hi.'"
The culprit is also a suspect in another burglary in the area and has been booked at a juvenile detention center. Walmsley said that he hopes the intruder turns his life around.
"I do urge him to make better decisions with his life," he said. "And oddly enough, I am rooting for him to do so."