COLUMBIA, S.C. — After a back and forth between Pope Francis and Donald Trump Thursday, former Florida Gov. Jeb Bush said he wouldn't question any candidate's Christianity.
"His Christianity is between he and his creator," Bush told reporters regarding Pope Francis's suggestion that Trump, the Republican presidential frontrunner, is not a Christian because of the border wall policy.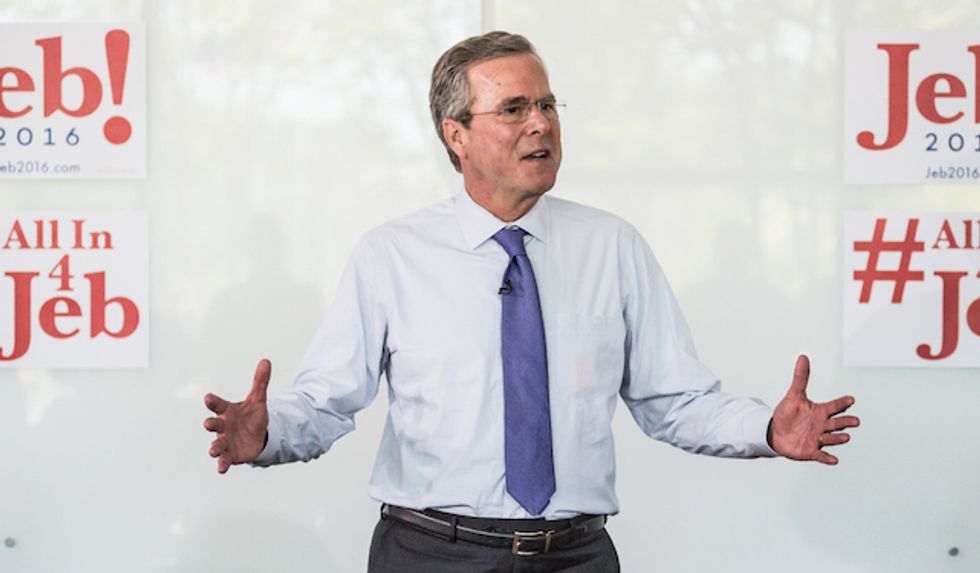 Former Florida Republican Gov. Jeb Bush (Sean Rayford/Getty Images)
Trump's campaign shot back at the pope's comments, saying a Trump presidency would be the best hope of defending the Vatican from an attack by the Islamic State. Bush said even that was questionable.
"As it relates to his policy regarding ISIS, he's not the right guy to be commander in chief," Bush said.
Bush added, "I support walls and fencing where it's appropriate," seeming to have some disagreement with Pope Francis.
"We should have a strategy to secure our border. That is clear. That is not an un-Christian thing to do, to make sure that people don't come across our border illegally. That's a just thing to do," Bush said. "
"He's my spiritual leader," Bush, a Catholic, said. "As I've said on matters like global warming, I think it's OK to get my guidance as a Catholic from the pope, but certainly not economic policy or environmental policy. I respect the pope. His voice will be heard."
Bush talked to reporters just after finishing up at a town hall in the South Carolina capital city, two days before the all-important first-in-the-South primary where Bush is struggling to get a foothold in the polls despite a family legacy in the state, where his father and brother both won Republican presidential primaries.
During the town hall, Bush responded to a question about Trump's statement that he (Trump) would be a "neutral guy" in the dispute between Israel and Palestine, a policy Bush called, "naïve and wrong."
"We have to have Israel's back. I've made this commitment from day one that I would move the embassy from Tel Aviv to Jerusalem because I think we have to send a signal to the world that we have Israel's back, not just because of the important security relationship we have with Israel but also because the rest of the world wonders if we are serious," Bush said. "For security purposes, for consistency purposes, we can't say we are going to be a neutral party. It just won't work."
One question in the audience suggested some are reluctant to support him because they don't want "another Bush." Bush joked, "I guarantee you I'm not doing this just to break the record of the Adams family," Bush said, referring to John Adams and John Quincy Adams.
But even many of the Bush supporters who attended a town hall here know that if Jeb Bush can't win or give a decent showing in a state where his father and brother had smashing victories, his presidential aspirations might be in trouble.
"To win, he needs something to catapult him into the media spotlight for the next 24 to 48 hours," said Rebecca Mayer, of Beaufort, South Carolina, who is undecided, but came to the Columbia town hall event because she is strongly considering Bush.
Other supporters are not quite so enthusiastic, as Bush seems headed for a fourth-place finish in Saturday's South Carolina Republican primary behind Donald Trump, Ted Cruz and Marco Rubio.
"We are pulling for him. I just trust him more and believe he can do what he says," Columbia resident Gwen Haigh told TheBlaze. "But he probably needs to come in at least third place in South Carolina if he's going to stick around."