A Polish news magazine has drawn strong responses to its latest issue, which features a cover photo of a white European woman being groped by dark-skinned arms emblazoned with the headline: "Islamic Rape of Europe."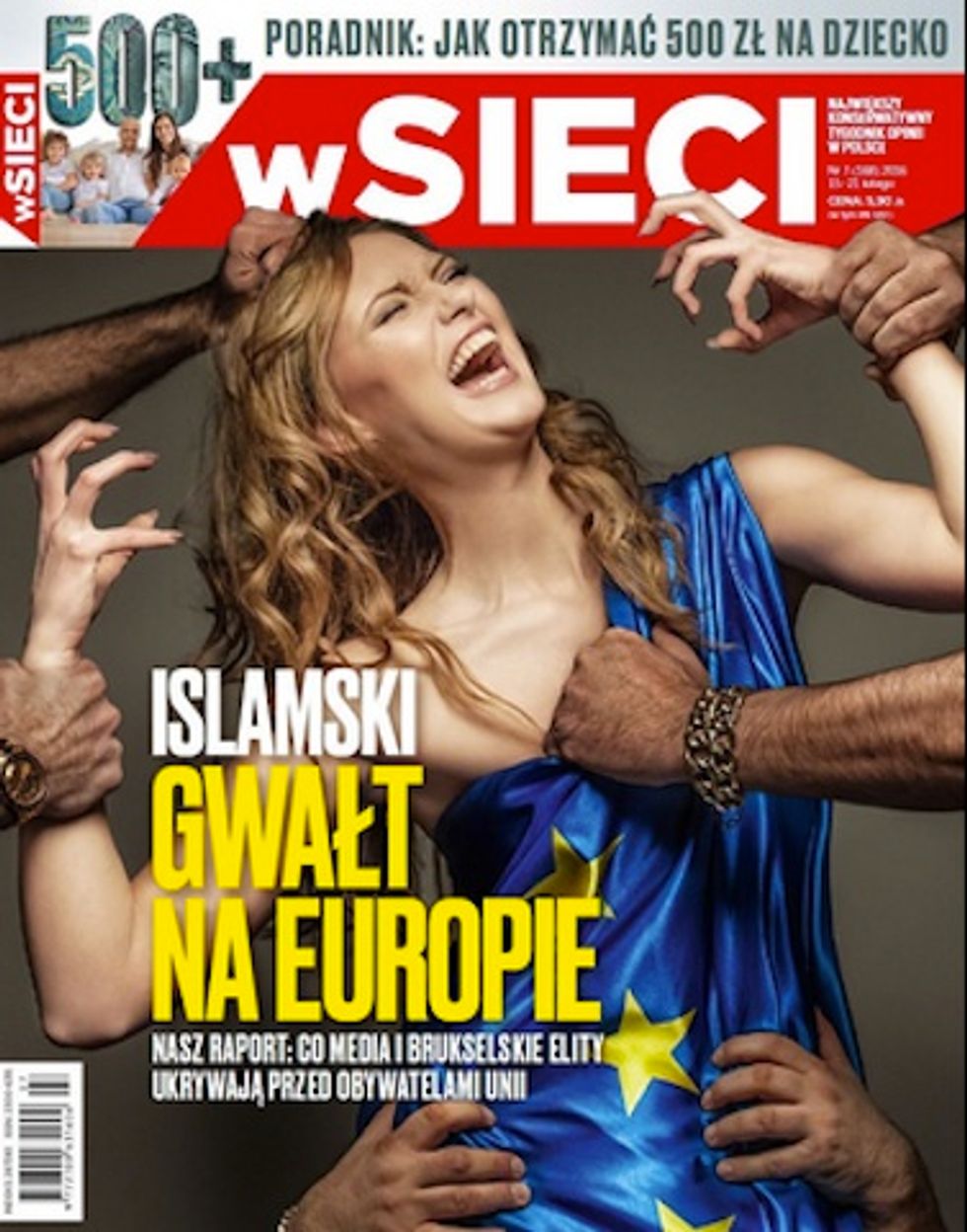 Image via Twitter @DamonGolriz
The magazine wSieci, or "Network," described by the Daily Mail as a "far-right weekly" devoted its issue to the subject of Middle Eastern migrants flooding Europe and Europeans' growing fears about the influx following reports of sexual assaults by asylum-seekers, notably at New Year's Eve festivities in Cologne, Germany.
The woman in the cover photo, wrapped only in a European Union flag, poses with her face in a scream as six hands pull at her hair, her flag cloak, her waist and arms.
oh my, the most controversial cover ever:
'Islamic Rape Of Europe': by the Polish Magazine #wSieci (The Network) pic.twitter.com/D65TQPnjdv

— Damon | دامون (@DamonGolriz) February 18, 2016
According to translated quotes published in Britain's Independent, the Polish magazine's cover article argued that the migration is a manifestation of the clash of civilizations between Islam and Christianity and that Europeans' embrace of multiculturalism will eventually lead to their downfall.
The article quotes historian Arnold Toynbee, writing: "Civilizations die from suicide, not by murder."
The Independent reported that articles in the issue included those titled, "Does Europe Want to Commit Suicide?" and "The Hell of Europe."
The Polish government has long been critical of the EU's open-door policy toward Middle Eastern migrants, in contrast with neighboring Germany, which accepted some 1.1 million migrants in 2015.