During a town hall event with Republican presidential hopeful Donald Trump Wednesday evening, MSNBC anchor Mika Brzezinski caught the billionaire in the middle of a trick question, and it got a little awkward.
Brzezinski told Trump that she was going to describe a candidate, and then she wanted him to tell her who she was describing.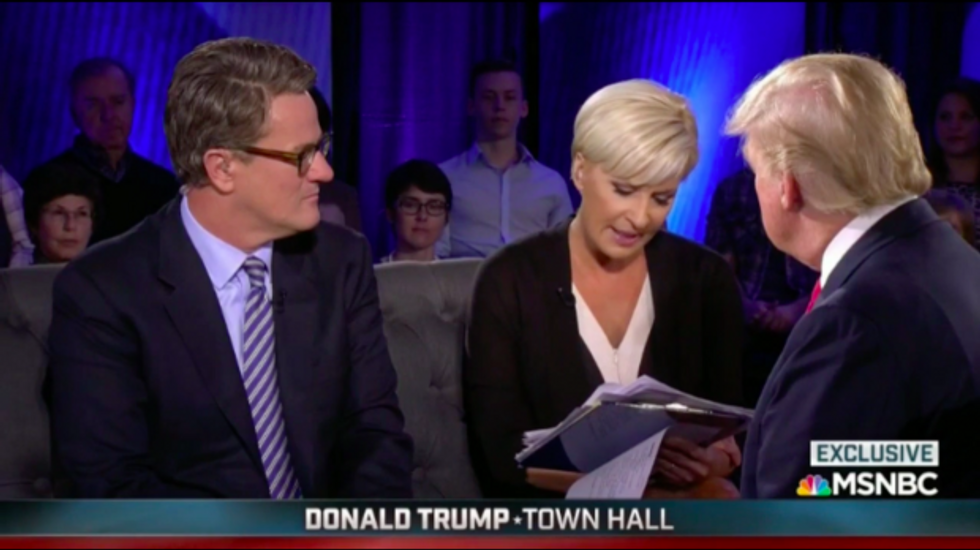 MSNBC hosts Joe Scarborough and Mika Brzezinski interview Donald Trump Wednesday, Feb. 17. (MSNBC/Twitter)
"The candidate is considered a political outsider by all the pundits. He's tapping into the anger of the voters, delivers a populist message. He believes everyone in the country should have healthcare, he advocates for hedge fund managers to pay higher taxes, he's drawing thousands of people at his rallies, and bringing in a lot of new voters to the political process. And he's not beholden to any super PAC. Who am I describing?" Brzezinski asked.
Without missing a beat, Trump added that he is not beholden to any special interests or donors, before confidently asserting, "You're describing Donald Trump."
There was only one problem: she wasn't. Instead, Brzezinski told the billionaire businessman that she was describing Democratic presidential candidate Bernie Sanders, a self-avowed Democratic socialist.
"Actually, I was describing Bernie Sanders," the MSNBC host said with a smirk, as the audience began to awkwardly laugh.
Trump, who appeared surprised, simply said, "Well, that's good."
He went on to say that he and Sanders agree that the U.S. is being "ripped off big league on trade," but he said the Democratic candidate can't do anything about it "because he doesn't understand it."
Watch the video:
—
Follow the author of this story on Twitter: