If only for a moment, it seemed as if the polarizing political race currently plaguing the U.S. was suspended when a supporter of Republican presidential candidate John Kasich shared his emotional story about why he is supporting the Ohio governor.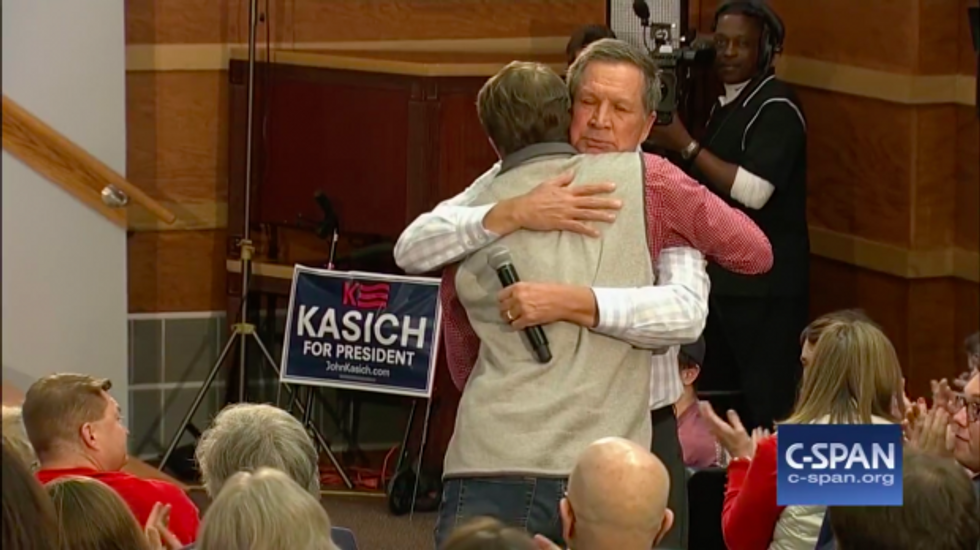 John Kasich embraces a supporter at a town hall in South Carolina Thursday, Feb. 18. (Image source: CSPAN/Facebook)
One University of Georgia student traveled to South Carolina Thursday to hear Kasich speak and he wanted to tell the presidential candidate "why I'm supporting you and why that support is unwavering."
"I don't want to get too emotional. It's pretty serious, but it has a happy ending," the supporter, who was already beginning to cry, told Kasich.
The supporter went on to tell Kasich that a man he considered to be his "second dad" had killed himself and that his parents had gotten a divorce. As his voice shook, the college student went on to say that soon after his parents' divorce, his father lost his job.
"I was in a really dark place for a long time. I was pretty depressed," he said. "But I found hope, I found it in the Lord, and in my friends, and now I've found it in my presidential candidate that I support."
As Kasich looked on, seeming to become emotional himself, it was as if politics was no longer the center of attention.
"I'd really appreciate one of those hugs you've been talking about," the supporter told Kasich, who walked over and embraced the young man.
After hugging the man, Kasich went back to the stage and told the room full of supporters that "we're going too fast in our lives."
"We need to slow down," Kasich said. "Because there are not enough people who are helping those who have no one celebrate their victories, and we don't have enough people that sit down and cry with that young man."
"Don't you see that's what it's about?" Kasich asked rhetorically. "[S]o as Americans, let's just renew our spirit. Let's care about one another and not be disconnected, and, together, we will rise this country."
Watch the emotional video:
John Kasich after hugging supporter: "We don't have enough people that sit down and cry with that young man." Full video here: http://cs.pn/1Ks6sdK

Posted by C-SPAN on Thursday, February 18, 2016
—
Follow the author of this story on Twitter: