RICHMOND, Va. — Approximately 1,000 parents, students and teachers gathered at Richmond's City Hall last week for a Save Our Schools rally to demand more funding to fix the crumbling infrastructure of Richmond Public Schools.
Chris Lombardi teaches fifth-graders at Mary Munford Elementary school and helped organize the rally. "Environment is so much if you're asking teachers to teach and students to learn in moldy environments, in environments where there are leaks coming down in the classroom when it rains heavily, buildings where the HVAC systems are not working properly," he said. "In the summer, it's way hot; in the winter, it's way cold. In those conditions, learning the way it's supposed to be won't happen."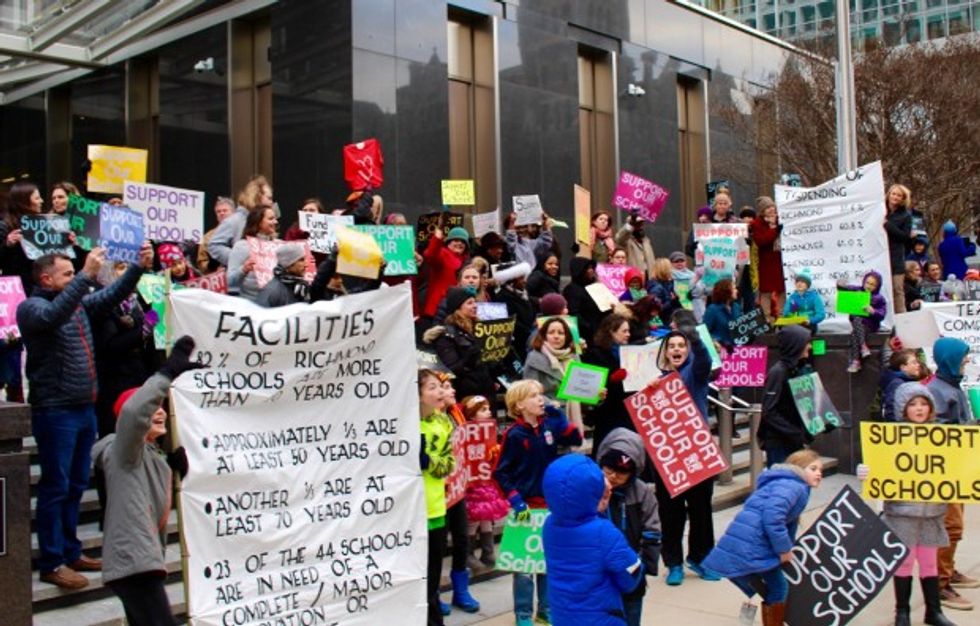 Students, teachers and parents rally at City Hall in Richmond, Virginia, to bring attention to the woeful conditions of Richmond Public Schools (Michael Mason/TheBlaze)
Advocates bundled in thick coats and clutching homemade signs lined the Broad Street entrance of City Hall chanting "Support our schools" and, for a moment,  "Show me the money."
Many drivers honked horns and raised fists in support of the teachers, students and parents shouting their message upward toward the second-floor offices of Mayor Dwight C. Jones. It wasn't the first time City Hall had heard from concerned residents.
"I came from Detroit and their schools are in better shape than Richmond," said one parent.
A quick search of the Internet would reveal more proof of neglect dating back years.  In 2015, after nearly a year's worth of work, the Richmond School Board's Facilities Task Force released it's long-awaited assessment of the city schools. The report was so big, copies had to be brought in on a pallet.
It called for $645 million in capital improvements in order to get the schools back to "normal."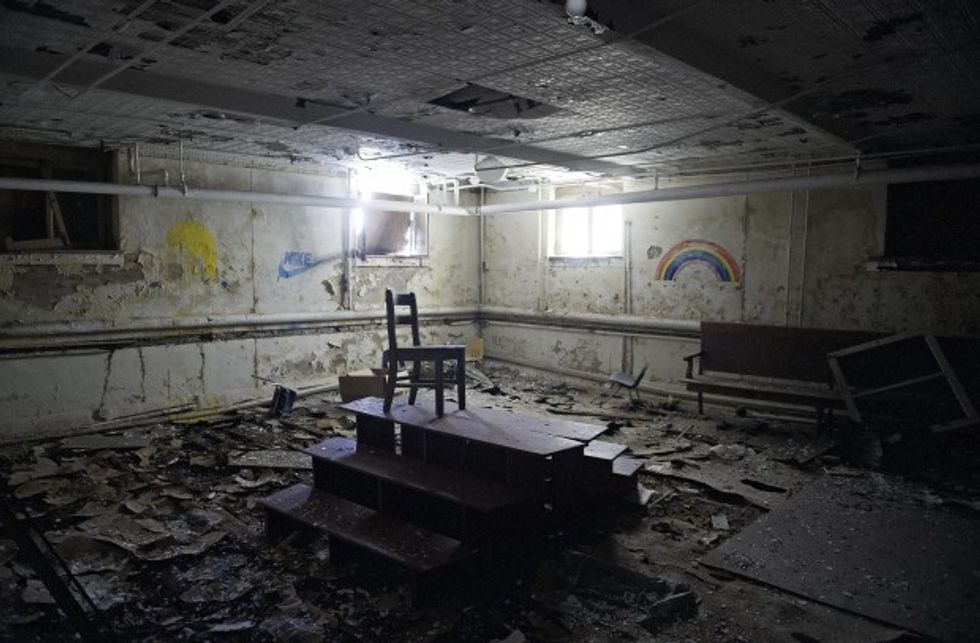 The Moore Street School, built in the 19th century, is an attached annex of Carver Elementary. No longer in use, it's become a rodent-infested, dilapidated arm of the school, separated from students by plywood and drywall. (Scott Elmquist/Style Weekly)
TheBlaze spoke with Tiffany Small, a teacher who used to work at the Richmond Public Schools. "Our school was falling apart. ... There were several leaks in the ceiling where tar [from roof patches] was dripping down onto the classrooms."
As if that wasn't enough, Small went on to explain more of the horrors children are subjected to: "Students had respiratory issues, vomiting ... that was the first time in my life I had to go in for breathing treatments ... we were on inhalers, even as the school claimed everything was fine."
The schools have been called the worst in the nation. Not surprising, Richmond Public Schools also have the worst graduation rate in the entire state. Currently, the city government has set aside $18 million as a band-aid. However, as of now, red tape surrounds it, and it sits untouched.
—
Follow Michael Mason (@MasonONAIR) on Twitter