COLUMBIA, S.C. – For Alan James, the choice was clear in the South Carolina Republican primary.
"I voted for Donald Trump because I'm tired of politics and the politicians," James told TheBlaze. "He tells it like it is and he says the things that need to be said. That's why a lot of people like him. It's also why a lot of people don't like him."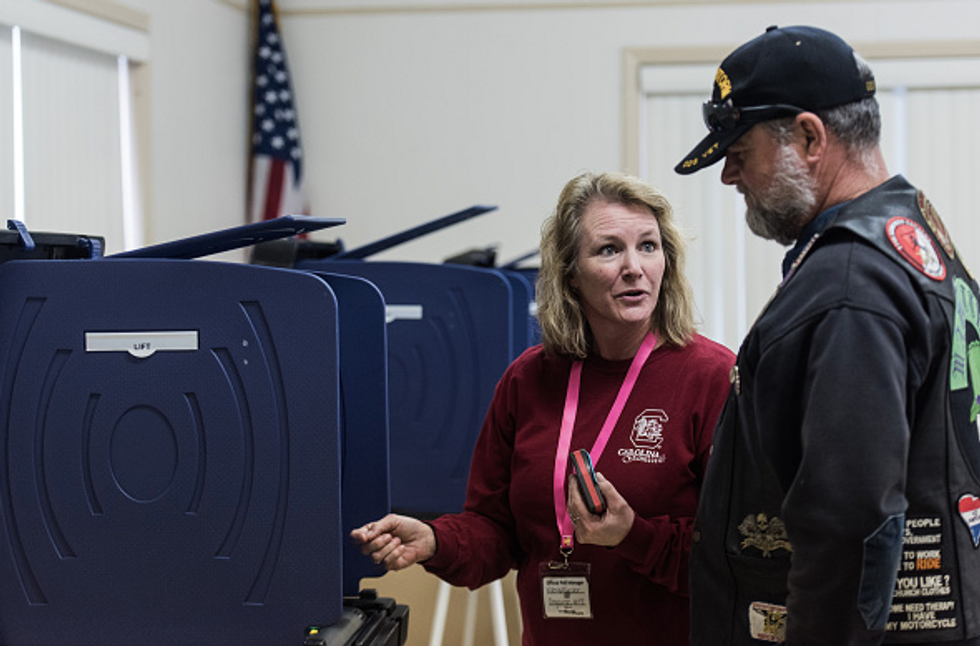 A poll worker assists Republican primary voter Michael Rabun (R) at American Legion Post 90 on February 20, 2016 in West Columbia, South Carolina. Today's vote is traditionally known as the 'First in the South' primary. (Sean Rayford/Getty Images)
Most pre-election polls showed Trump, the real estate billionaire, leading among Republican voters in the Palmetto State.
Shaun Hampton, whose husband is in the military, said she voted for Texas Sen. Ted Cruz in part because he is strong on defense.
"He shares my conservative views," Hampton told TheBlaze. "I've always been a Republican, and Ted Cruz seems like the strongest candidate to go into November."
South Carolina has a more than 37,000 active duty military members and 417,554 military veterans. Also, 65 percent of the state's residents identify themselves as born again or evangelical Christians.
In 2012, a record 603,000 voters turned out to vote in the South Carolina primary, and the state GOP anticipates even more this year. The turnout will likely be far more than the 182,000 that turned out for the Iowa Republican Caucus and 284,108 votes case in the New Hampshire Republican primary. Unlike the other two states, South Carolina has an open primary system, which means any of the states 2.7 million voters could vote in the Republican primary.
Florida Sen. Marco Rubio — who got much of the South Carolina political establishment in his corner with Gov. Nikki Haley and Sen. Tim Scott — also earned the vote of Hannah Jones on Saturday.
"I support Marco Rubio because he [has] good values and has strong religious beliefs," Jones told TheBlaze.
[sharequote align="center"]"We need change."[/sharequote]
South Carolina has been a critical early contest for Republicans since 1980, and has picked the winner of the GOP nomination in all but one election cycle since then, which was four years ago when voters back former House Speaker Newt Gingrich. Wing candidates have previously gained about 30-40 percent of the vote.
Jim Hartman, of Columbia, voted for former Florida Gov. Jeb Bush, even though he wasn't optimistic about his chances.
"I look at his experience and track record and I think he can better fix complicated issues like illegal immigration," Hartman told TheBlaze. "It's an uphill climb for him. He's not vicious and he can't attack the way Trump can."
Mark Humphreyville, of Aiken, South Carolina, voted for based on the track record of Cruz. He also feels better about Cruz nominating Supreme Court justices.
"He'll protect the Second Amendment," Humphreyville  told TheBlaze. "He's the candidate I trust to replace [Antonin] Scalia with a conservative.
Andy Kurtz voted in Greenville earlier in the day but was in Columbia later during primary day. He said he voted for Ohio Gov. John Kasich.
"John Kasich is the most logical and reasonable candidate running," Kurtz told TheBlaze. "He's a middle of the road moderate who can get things done. I hope he has a chance here. It's an uphill battle, but we need someone who isn't polarizing."
Tom Johnson, of Columbia, insisted that Trump is just the candidate the country needs.
"We need change. We need the government to be run like a business," Johnson told TheBlaze. "He's a man of action. Rubio and Cruz are my age. They don't have much experience, and what experience they have is in politics not business. Trump's personality takes some getting used to, but he's what we need now."