Actor Morgan Freeman is the voice behind a second advertisement for Democratic presidential candidate Hillary Clinton — this time detailing her record on gun control.
In the ad, released in South Carolina over the weekend, Freeman touts Clinton's support of mothers who have lost their children to either gun violence or at the hands of police officers as well as her efforts in Flint, Michigan, the town embattled in a water crisis. The ad was released a week ahead of the Palmetto State's Democratic primary and ahead of Clinton's tour of the state along with five mothers who lost their children due to a shooting or while in police custody.
"She says their names ... and makes their mothers' fight for justice her own," Freeman said in the ad. "She speaks for a city poisoned by indifference and stands with the president against those who would undo his achievements just like she's always stood with us."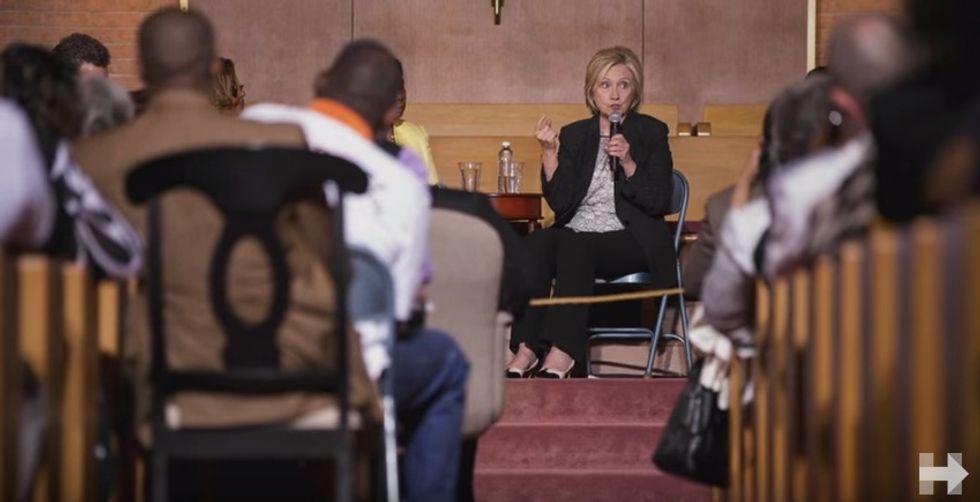 Image source: YouTube
According to a press release from Clinton's campaign, the former secretary of state will be joined by Sybrina Fulton, Trayvon Martin's mother; Geneva Reed-Veal, Sandra Bland's mother; Gwen Carr, Eric Garner's mother; Maria Hamilton, Dontre Hamilton's mother; and Lucy McBath, Jordan Davis' mother as the campaign holds a series of "Breaking Down Barriers" forums in 10 South Carolina cities.
 The newly released ad is the second that Freeman has narrated for Clinton. He was also the voice behind an ad released earlier this month that touts her work on juvenile justice and "breaking barriers" as it targeted minority voters. 
Freeman has publicly supported and defended Clinton against accusations that she is not a "trustworthy" candidate.
Clinton scored a huge endorsement in South Carolina last week when South Carolina Rep. Jim Clyburn publicly announced his support for his fellow Democrat. Clyburn, the highest ranking black member of Congress, had been grappling with whether or not he wanted to make an endorsement. In 2008, he endorsed President Barack Obama.
—
Follow Kaitlyn Schallhorn (@K_Schallhorn) on Twitter