Students at a school in the British dependency of Guernsey were given a homework assignment for their Religious Studies class that asked them to write a letter to their parents explaining "how you are converting to Islam," Britain's Sunday Express reported.
The British paper described the task given to the Year Eight students — who are between 12 and 13 years old — as "a bizarre homework assignment."
The Sunday Express identified the school as Les Beaucamp High School in Guernsey and, indeed, a check of their homework website showed the assignment: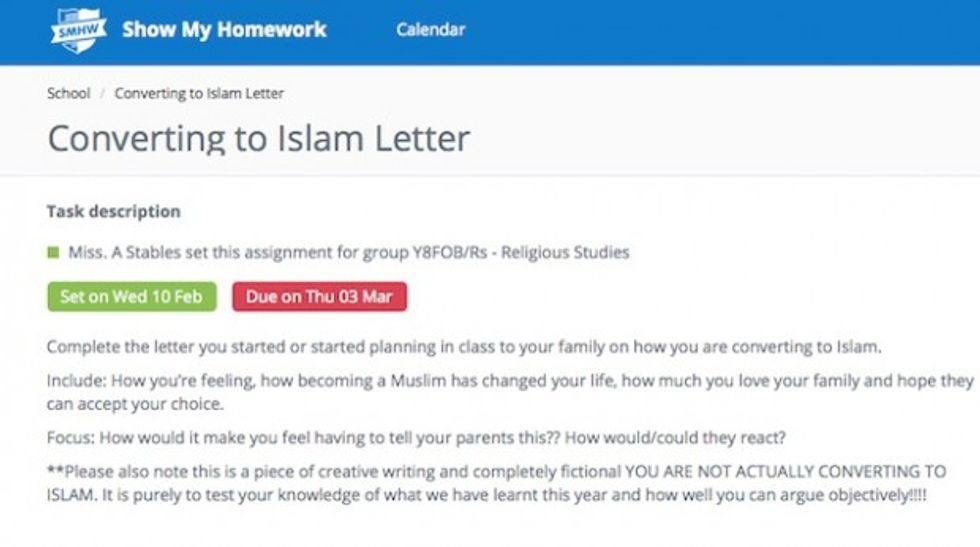 Image source: showmyhomework.co.uk
The teacher emphasized strongly, using all caps, that the assignment was a "creative writing" task.
"**Please also note this is a piece of creative writing and completely fictional YOU ARE NOT ACTUALLY CONVERTING TO ISLAM. It is purely to test your knowledge of what we have learnt this year and how well you can argue objectively!!!!" the teacher wrote.
Students were asked to include in the letter, "How you're feeling, how becoming a Muslim has changed your life, how much you love your family and hope they can accept your choice."
"Focus: How would it make you feel having to tell your parents this?? How would/could they react?" the teacher asked, adding that the assignment should take about 30 minutes to complete.
While the teacher in this case made it clear that the assignment was examining a fictional scenario, in the U.S., a former Marine and his wife last month filed a federal lawsuit against a Maryland school district after they believe their daughter was forced to do homework assignments that reportedly promoted Islam over other religions, including writing out the "Shahada" Islamic creed and memorizing the five pillars of Islam.
The Shahada creed states, "There is no god but Allah, and Muhammad is the messenger of Allah."
The leader of Guernsey made news earlier this month when he said his island would reject welcoming Middle Eastern asylum seekers due to what he described as "Islamophobia" and "negativity" among its residents.
"There's certainly a lot of Islamophobia and negativity that's been around and that would entail that it would be difficult for us to ensure that [the refugees] would find the sorts of security and stability here in Guernsey, were they to be resettled here, in the same way as they are, say, in other parts of the U.K.," Guernsey Chief Minister Jonathan Le Tocq said in early February.