After a Breitbart article on Sunday mocked Glenn Beck's call for his Facebook followers to "fast for Ted Cruz, our country and the Nevada caucus" — complete with a photo pulled from the radio host's Facebook page showing his face pointed upward and his hands held high — Beck didn't back down.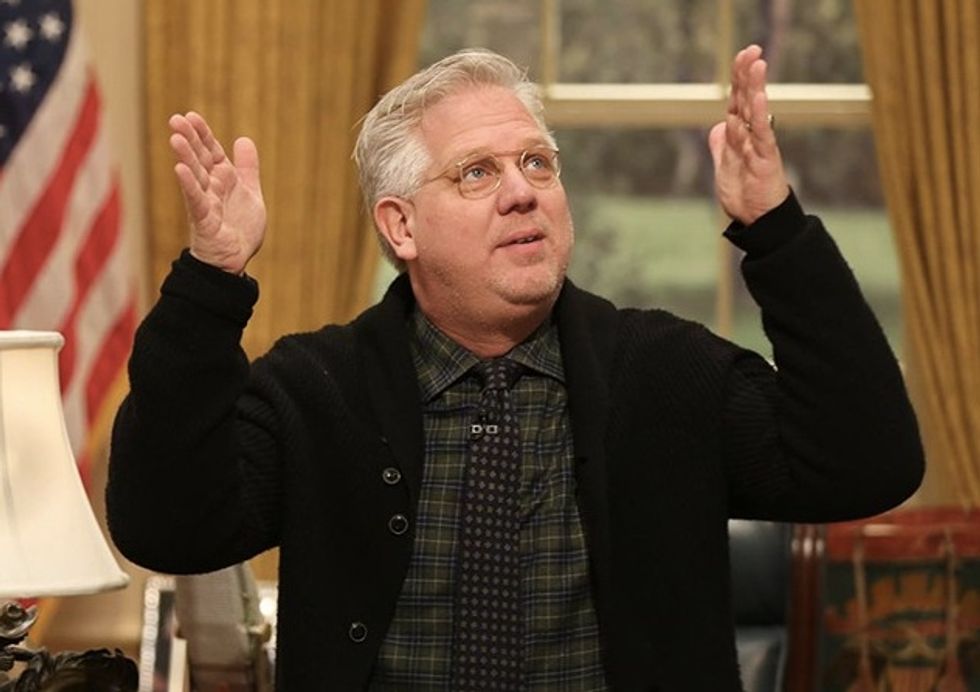 Image source: Facebook
Rather, he doubled down: "I'm not running from this," he posted on Facebook Sunday regarding his call to fast following Donald Trump's victory in the South Carolina primary on Saturday.
"I own my comments and actions and encourage others to do the same," Beck continued. "Prayer, fasting and asking for a humbling of ourselves and nation. I pray and fast not for Ted Cruz to win, but for His will to be done and that our will and wants will align with His. Join me tomorrow."
The Breitbart article — which also reinvoked the debunked meme that Beck said God allowed Justice Antonin Scalia to die so that Cruz can get elected — was the lead story on Drudge Report Sunday afternoon:
Earlier Sunday Beck — who has endorsed Cruz — addressed posts he'd seen on the fasting issue and wrote that they prove "that the Church is dead asleep. Since when has a fast and prayer been crazy? It was standard practice to beseech the powers of heaven for not just your country but personal guidance and revelation at one time. Have we really become a nation that mocks those who pray and fast? The sad answer is yes."
Beck continued:
I am not telling you who to vote for. I am asking people to pray and humble themselves before the Lord. If you wish to do that for your candidate please do so. God will not answer you or me. With prayer and fasting, approached with humility and a broken heart, we may fall closer into alignment with His will.

I, as a citizen, believe that we are closer to losing our nation and Liberty than we were on September 11th.

What did we do that week?

We prayed and fasted.

We promised ourselves and our children that we would stay awake and do all we could to preserve our country and constitution from all enemies foreign and domestic.
Beck pointed to one message that to him "says it all" in regard to the negative reaction to his call for a fast: "Ok I have come to the conclusion that Glenn Beck needs to be put in the loony bin because he is asking people to join he and his family on Monday in a fast for Ted Cruz before the Nevada Caucus. Is this idiot for real??? Why don't he just accept the fact that Cruz lost and stop acting like a little cry baby and certifiably insane because he is making Christians look like whack jobs!!"
But Beck was resolute: "I beg to differ with this post but what I think makes Christians look like 'whack jobs' is voting without applying the principles they claim to uphold. I fear Lincoln was right. Our destruction will not come from an outside force but we will indeed destroy ourselves. I pray I play no role in that event. Will you do the same?"