A member of British parliament has revealed how an Afghan asylum-seeker claiming to be 12 years old who attacked his foster father was discovered to most likely be an adult in his twenties.
Conservative MP David Davies told Britain's Daily Mail Saturday that the Afghan migrant was taken in by a foster family in his district of Monmouth in Wales, but refused to abide by the rules they had set and would disappear for long periods of time.
According to the account, the asylum-seeker who was not identified told social services that he wanted to move to another town but after being told he would have to live there with a foster family as well, he attacked his foster father.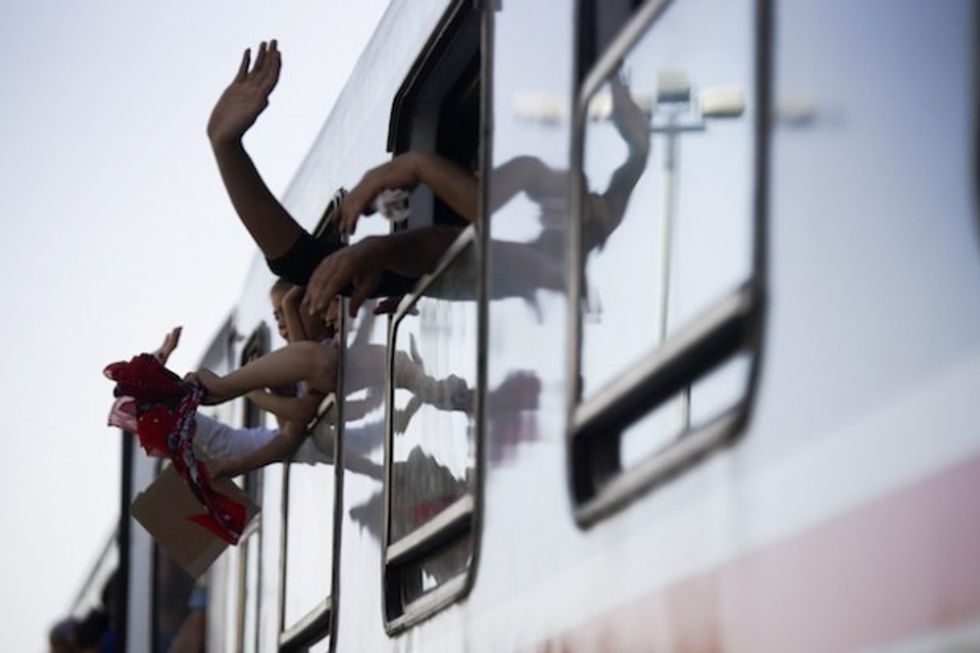 Migrants are seen on a train bound for Hungary at the railway station in Beli Manastir, Croatia, Friday, Sept. 18, 2015. (Zoltan Balogh/MTI via AP)
Two pieces of evidence supported the new assumption by authorities that the Afghan is an adult who posed as a child to exploit Britain's automatic six-year residency allowance for child migrants.
The lawmaker revealed to the Daily Mail that "they did a dental check on him and discovered that his wisdom teeth were rotting," a condition associated with adults, not 12-year-olds.
Additionally, an examination of the asylum-seeker's cellphone revealed indecent images of children and visits to jihadi websites, the lawmaker said.
"These people come over here and get preferential treatment by claiming they're 12 and no one wants to call them out," Davies said.
"They're encouraged to lie because if they say they are 12 they are allowed to stay in the country for six years until they face being kicked out," he said. "But when their six years is over and they're being forced to leave they just turn around and say it's a breach of their human rights. It's all a complete ruse."
In Sweden, like in Britain, policymakers have been seeking ways to verify the true age of migrants following questions over the age of the asylum-seeker who killed a female Swedish aid worker in a knife attack in a center for unaccompanied teens.
During a court appearance in late January, the suspect in the killing, Youssaf Khaliif Nuur, who had claimed to be 15, was seen to be six feet tall with a faint beard and mustache, fueling suspicions he too is an adult.
Morgan Johansson, Sweden's minister of justice and migration, told the TT news agency last month that Sweden needs "to develop new methods to better judge age."