Social justice activists at Brown University have complained their activism is taking an emotional toll on them and that their extracurricular activities have at times caused them to fail classes. Perhaps unsurprisingly, their claims won them some derision on social media.
This "mental, emotional and physical stress" was featured in an article Thursday in the Providence, Rhode Island campus newspaper, the Brown Daily Herald which reported:
"There are people breaking down, dropping out of classes and failing classes because of the activism work they are taking on," David, an undergraduate whose name has been changed to preserve anonymity, said. Throughout the year, he has worked to confront issues of racism and diversity on campus.

His role as a student activist has taken a toll on his mental, physical and emotional health. "My grades dropped dramatically. My health completely changed. I lost weight. I'm on antidepressants and anti-anxiety pills right now. (Counseling and Psychological Services) counselors called me. I had deans calling me to make sure I was okay," he said. […]

Justice Gaines '16, who uses the [gender neutral] pronouns xe, xem and xyr, said student activism efforts on campus are necessary. "I don't feel okay with seeing students go through hardships without helping and organizing to make things better."
At one point, the Daily Herald reported, Gaines "had a panic attack and couldn't go to class for several days," a predicament that was alleviated by notes from campus deans to professors allowing more time to complete academic assignments.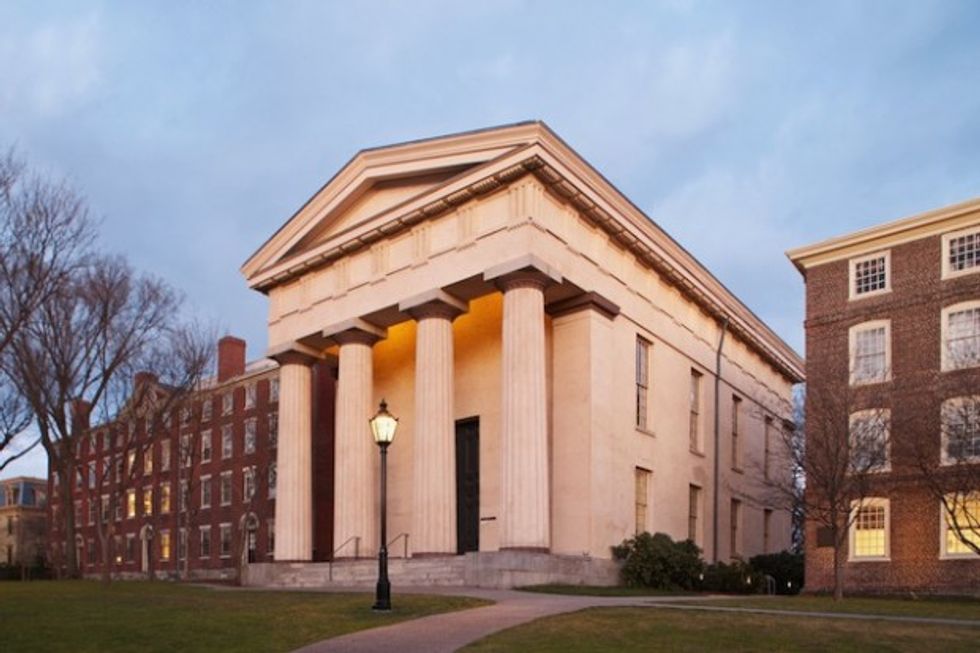 Brown University, an Ivy League institution, is located in Providence, Rhone Island. Student activists have complained that their extracurricular commitments are impacting their studies. (Photo credit: Shutterstock/aastock)
A student activist for Latino issues told the paper, "Homework was the least of my worries."
The campus paper joined in on the use of the gender neutral words, writing, "Students were called out of class into organizing meetings, and xe felt pressure to help xyr peers cope with what was going on, xe said. Gaines 'had a panic attack and couldn't go to class for several days.'"
No, those are not typos.
The leftist activists' complaints unleashed a torrent of contempt and ridicule on Twitter:
@yair_rosenberg @cerenomri perfect example of the further sissyfication of millennials. Beyond pathetic.

— The Boss Man (@YcfMan) February 19, 2016
Schoolwork, advocacy place strain on student activists: https://t.co/cxMA1E6gk2 Silly little babies. #Weaklings. #BrownUniversity.

— George O'Har (@georgeohar) February 20, 2016
Conservative columnist Ben Shapiro wrote, "The parents of these dolts should be ashamed they're spending hundreds of thousands of dollars to turn their teenagers into useless members of society more focused on feeling microaggressed than learning life skills."
Others pointed to the irony that one such activist group, the anti-Israel group Students for Justice in Palestine, recently protested an event featuring actor Michael Douglas and famed former Soviet dissident Natan Sharansky — one who knows a thing or two about suffering — on Brown University's campus.
Those poor @BrownUniversity students who needed support? They were protesting Sharansky. WHO LIVED IN A GULAG. @JeffreyGoldberg

— Ben Freed (@BFreedInA2) February 19, 2016
The Ivy League school's administrators expressed support for the activism.
Assistant dean of student support services Ashley Ferranti told the Daily Herald that despite the hardships, the activism is an "important part of the academic learning experience."
__
Front page photo courtesy of Shuttershock.