A photo of Facebook CEO and co-founder Mark Zuckerberg appearing at the Mobile World Congress in Spain over the weekend has caused Twitter to explode with trepidation and speculation concerning the possible future of virtual reality.
Zuckerberg, 31, spoke in Barcelona at the annual event where many of the world's most innovative companies showcase their newest gadgets and discuss technology's future, according to ABC News.
In the photo that has taken Twitter by storm, Zuckerberg is shown during a surprise appearance at Samsung's event as he walks past rows of audience members wearing Samsung's new Gear 360 camera — a pocket-sized device with two lenses that compile footage together to create an immersive 360-degree experience for consumers.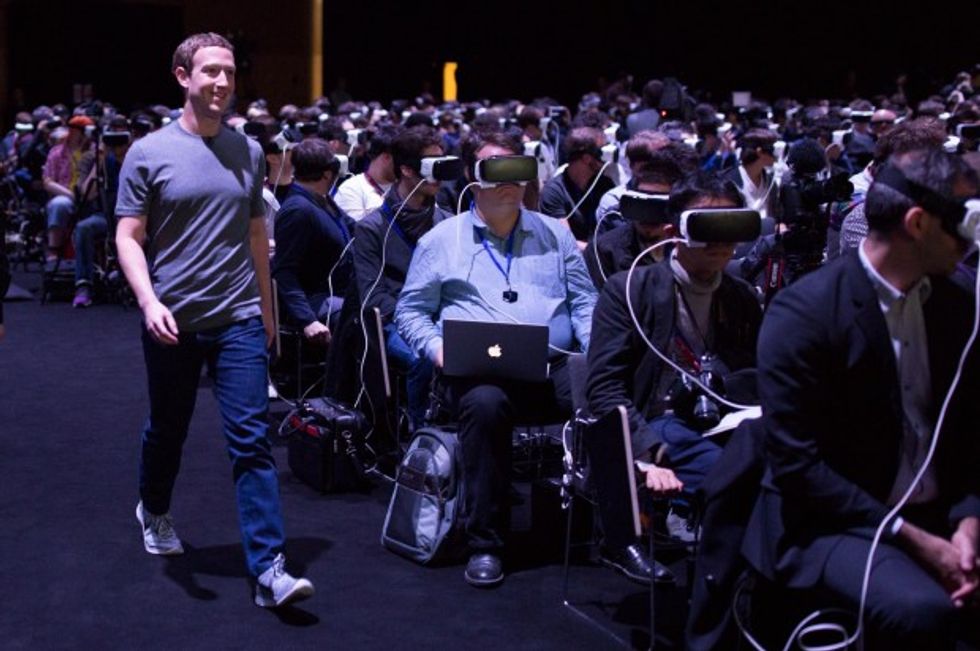 Photo credit: Facebook/Mark Zuckerberg
Zuckerberg posted the photo, along with a couple others from the event, to his Facebook page, in which he said, "I just joined Samsung to launch their new Galaxy smartphones and talk about the future of virtual reality."
As soon as Zuckerberg publicly released the photo, however, Twitter flared up with users tweeting the image and adding captions to the photos.
is this picture an allegory of our future ? the people in a virtual reality with our leaders walking by us. https://t.co/ntTaTN3SdR

— Nicolas Debock (@Nicolas Debock) 1456086891.0
@ow @internetofshit it's only a matter of time... https://t.co/rMSDNbL9Xe

— Kameron Gasso (@Kameron Gasso) 1456094384.0
https://t.co/uCe5f8mafa

— drew olanoff (@drew olanoff) 1456099535.0
Greetings citizens of Planet Earth. I am your new overlord. https://t.co/RmAEWE3PyS

— Dave (@Dave) 1456148242.0
(H/T: Business Insider)
—
Follow Kathryn Blackhurst (@kablackhurst) on Twitter