Bill Gates, co-founder of Apple's rival Microsoft, has expressed support for the FBI in their dispute regarding the iPhone used by one of the San Bernardino shooters.
During an interview with the Financial Times, Gates rejected the notion that the government demanding a "back door" into the iPhone in question would set a precedent that would jeopardize the privacy of others.
"This is a specific case where the government is asking for access to information. They are not asking for some general thing, they are asking for a particular case," Gates said.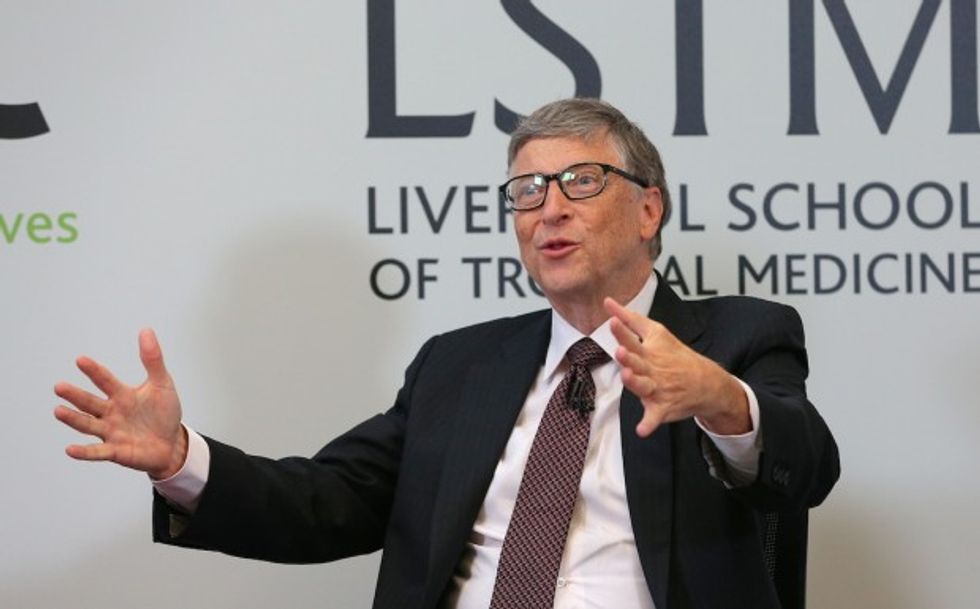 Microsoft co-founder Bill Gates during a visit to the Liverpool School of Tropical Medicine in Liverpool, England, Jan. 25. (Dave Thompson — WPA Pool/Getty Images)
"Apple has access to the information," Gates continued. "They're just refusing to provide the access."
Apple has denied this to be the case.
"We have done everything that's both within our power and within the law to help in this case," the company wrote to customers in a letter about the case. "As the government has confirmed, we've handed over all the data we have, including a backup of the iPhone in question. But now they have asked us for information we simply do not have."
In an internal memo to employees, Apple CEO Tim Cook characterized the dispute as a matter of principle and reiterated the company's commitment to customers' security and privacy.
"This case is about much more than a single phone or a single investigation, so when we received the government's order we knew we had to speak out," Cook wrote. "At stake is the data security of hundreds of millions of law-abiding people, and setting a dangerous precedent that threatens everyone's civil liberties."
"[Apple] does not feel right to be on the opposite side of the government in a case centering on the freedoms and liberties that government is meant to protect," Cook added. "Our country has always been strongest when we come together. We feel the best way forward would be for the government to withdraw its demands under the All Writs Act and, as some in Congress have proposed, form a commission or other panel of experts on intelligence, technology and civil liberties to discuss the implications for law enforcement, national security, privacy and personal freedoms. Apple would gladly participate in such an effort. People trust Apple to keep their data safe, and that data is an increasingly important part of everyone's lives."
FBI Director James Comey has argued that the "particular legal issue is actually quite narrow."
"So I hope folks will remember what terrorists did to innocent Americans at a San Bernardino office gathering and why the FBI simply must do all we can under the law to investigate that," Comey said in a statement. "And in that sober spirit, I also hope all Americans will participate in the long conversation we must have about how to both embrace the technology we love and get the safety we need."
During an interview On Bloomberg TV on Tuesday, Gates said he was "blindsided" by the reports regarding his comments.
"I was disappointed because that does not state my view. I do believe with the right safeguards, I think there are some cases where the government, on our behalf, like stopping terrorism, which could get worse in the future, that that is valuable," he said. "But striking that balance — Certainly, the government has taken information historically and used it in ways that we do not expect, going all the way back to the FBI under J. Edgar Hoover. I am hoping now that we can have the discussion. I do believe there are sets of safeguards where the government should not have to be completely blind."
This post has been updated to include new information.