GOP hopeful Ben Carson ignited a firestorm Tuesday morning after he said in a recent interview with Politico's Glenn Thrush that President Barack Obama was "raised white."
Carson, the only black 2016 presidential candidate, said that he was proud that the color-barrier was broken when Obama ascended to the White House in 2009, but emphasized that his experience in America has been much different from Obama's.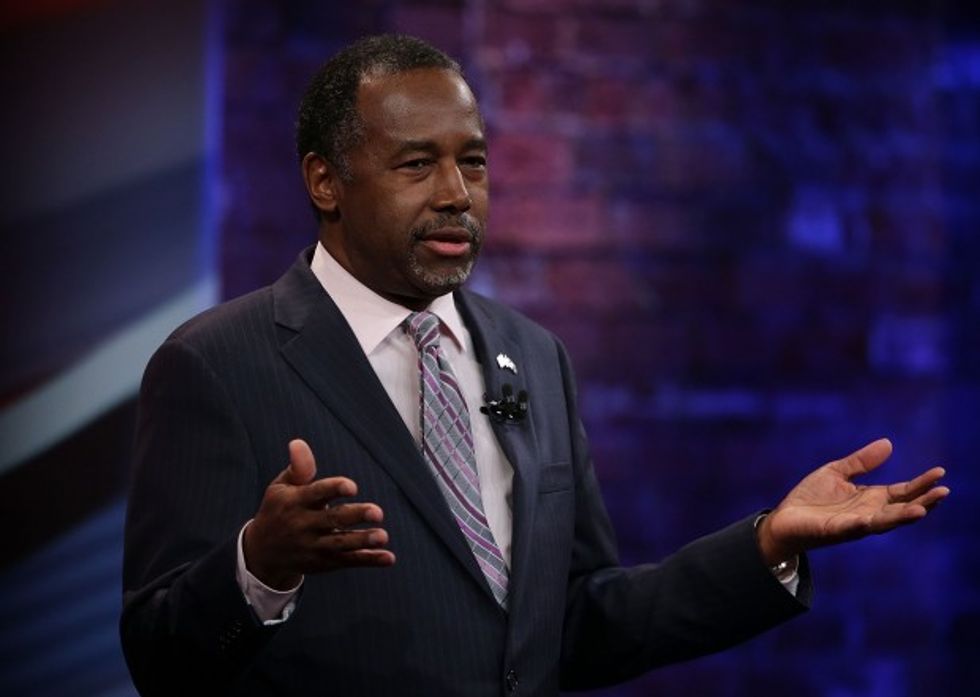 Ben Carson participates in a CNN South Carolina Republican presidential town hall Feb. 17. (Getty Images/Alex Wong)
"I mean, like most Americans, I was proud that we broke the color barrier when he was elected, but I also recognize that his experience and my experience are night and day," he said. "He didn't grow up like I grew up by any stretch of the imagination. Not even close."
"He's an 'African' American. He was, you know, raised white," the retired neurosurgeon added. "Many of his formative years were spent in Indonesia. So, for him to, you know, claim that, you know, he identifies with the experience of black Americans, I think, is a bit of a stretch."
During Carson's rise to political fame, and during his presidential bid, he has not often spoken about race. But in his interview with Thrush, Carson admitted that he has experienced some racism on the campaign trail — not from Republicans, but from progressives.
[sharequote align="center"]"He's an 'African' American. He was, you know, raised white."[/sharequote]
"They assume because you're black, you have to think a certain way," he said. "And if you don't think that way, you're 'Uncle Tom,' you're worthy of every horrible epithet they can come up with; whereas, if I weren't black, then I would just be a Republican."
"I don't find any particular problem being an African-American in the Republican Party," Carson went on to say.
Part of Carson's central message is that he came from an impoverished home in Detroit during the civil rights era, rising to become a world-famous pediatric neurosurgeon. Obama, on the other hand, was born to a white mother and Kenyan father in Honolulu and enjoyed privileges that Carson did not.
Carson also revealed in his interview with Thrush that he hasn't spoken with Obama since his famous National Prayer Breakfast speech in 2013 — the one that put him in the national political spotlight.
Carson's comments have not been well received by his critics, who have accused him of pulling the "race card" on Obama. In normal Twitter fashion, people did not hold back with their reaction:
@politico The desperate last gasp of a "never was" sort of "has been".

— Don (@Don) 1456226766.0
@politico being a black person "raised white" is probably better than being "raises black" and then switching over during adulthood like u

— Enough (@Enough) 1456226552.0
@politico Oh, my, gosh. Race card used again. By a ileitis neurosurgeon. who started this for a book tour. Stranger than fiction.

— Elliott Dunwody, VI (@Elliott Dunwody, VI) 1456226867.0
@DwThaone1 @politico it's the stupidest thing I've read in about a week! Obama acts blacker than him in all aspects of life smh & I agree😊

— StephanieShante🧚🏾‍♀️ (@StephanieShante🧚🏾‍♀️) 1456230364.0
.@politico Carson has been standing next to Trump too long. #Insults #Disrespect #BatshitCrazy

— Cheryl W (@Cheryl W) 1456227797.0
@politico now he is trying to prove that he is blacker than POTUS. Sir please stop and suspend your campaign immediately

— NY516toDC202 (@NY516toDC202) 1456227770.0
Listen to Carson's interview below:
—
Follow the author of this story on Twitter and Facebook:
[facebook //www.facebook.com/plugins/like.php?href=