A Georgia business owner is requiring his employees to obtain concealed carry permit and carry while at work.
Lance Toland, who owns Lance Toland Associates, an aviation insurance company with offices in Atlanta, Griffin and St. Simons Island, Georgia, said all of his employees now has a "Judge" pistol either by their side on on their person, which he said will help keep criminals away.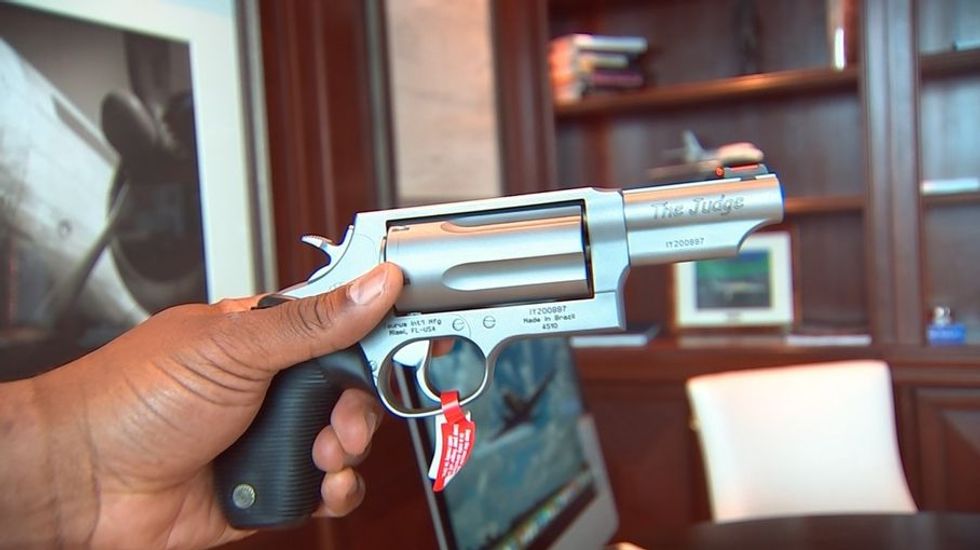 Image source: WSB-TV
"I would not want to come into one of my facilities," Toland told WSB-TV. "It's a 5 shot .410, just like a shotgun and you call it hand cannon."
Toland said he made the decision after hearing about recent home invasions and other violent crimes being committed in the Atlanta area. He said he decided to begin requiring employees to carry for their own safety, adding that a number of his employees are women.
Toland said all of his workers had obtained their concealed carry permits within three or four weeks, and that after presenting their permit to him, received a 410 Judge pistol.
–
(H/T: WSB-TV)