New Jersey governor and former Republican presidential candidate Chris Christie appeared on ABC's "This Week" Sunday morning to discuss the decision he made this week to endorse Republican front-runner Donald Trump.
Christie told host Geroge Stephanopoulos Sunday that he believes Trump will be able to build his proposed wall at the U.S.-Mexican border. When asked how, Christie replied, "He's going to have to answer that question, and he will."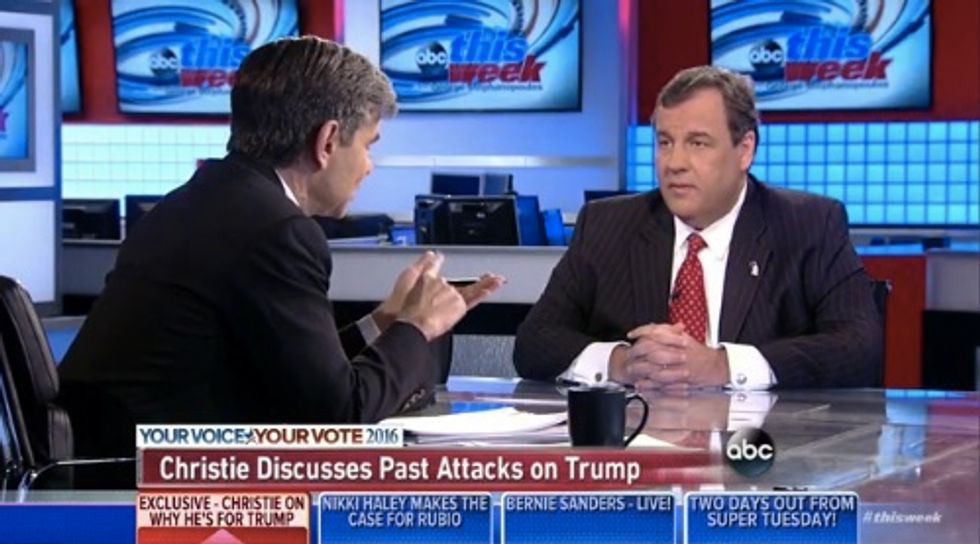 Image source: ABC/"This Week"
"You look at everybody else on that stage, and there haven't been many more specifics from a lot of other folks on that stage," he continued. "
Stephanopoulos mentioned that the Mexican Foreign Minister was quoted in the Washington Post Sunday morning calling the wall "a racist, ignorant and absurd proposal."
"You know that Mexico's not gonna pay," Stephanopoulos said.
"What would you expect Mexico to say? That's of course what they're going to say," Christie said.
"The fact of the matter is," Christie continued, "there won't be any question about Mr. Trump's strength and his resoluteness in terms of getting the things done that he's wanted to get done. That's what his whole career has shown."
Watch:
.@ChrisChristie on how Trump will pay for the border wall: "He's going to have to answer that question, and he will" https://t.co/upxBLGBbxC

— This Week (@ThisWeekABC) February 28, 2016
The New Jersey governor has received widespread critique since he announced his endorsement of Trump Friday.
Meg Whitman, the CEO of Hewlett-Packard who served as National Finance Co-Chair for Christie's campaign, called the endorsement "an astonishing display of political opportunism."
"The only choice was Donald Trump," Christie said in a news conference before his rally Friday afternoon in Fort Worth, Texas. "The best choice was Donald Trump. … He's strong enough to take on the D.C. establishment."
"Trump would take America on a dangerous journey," Whitman wrote in statement reported by NBC News. "Christie knows all that and indicated as much many times publicly."