CAIRO (AP) — An Egyptian lawmaker hit a fellow parliamentarian with his shoe Sunday over the latter's meeting with the Israeli ambassador to Egypt.
Sunday's parliament session was adjourned for 10 minutes as the two lawmakers were kicked out, the state-run MENA news agency reported.
Tawfiq Okasha, a popular TV talk show host and parliament member, has been engulfed in controversy since Thursday when Israeli ambassador Haim Koren posted a picture on the embassy's Facebook page of the two of them meeting Wednesday evening.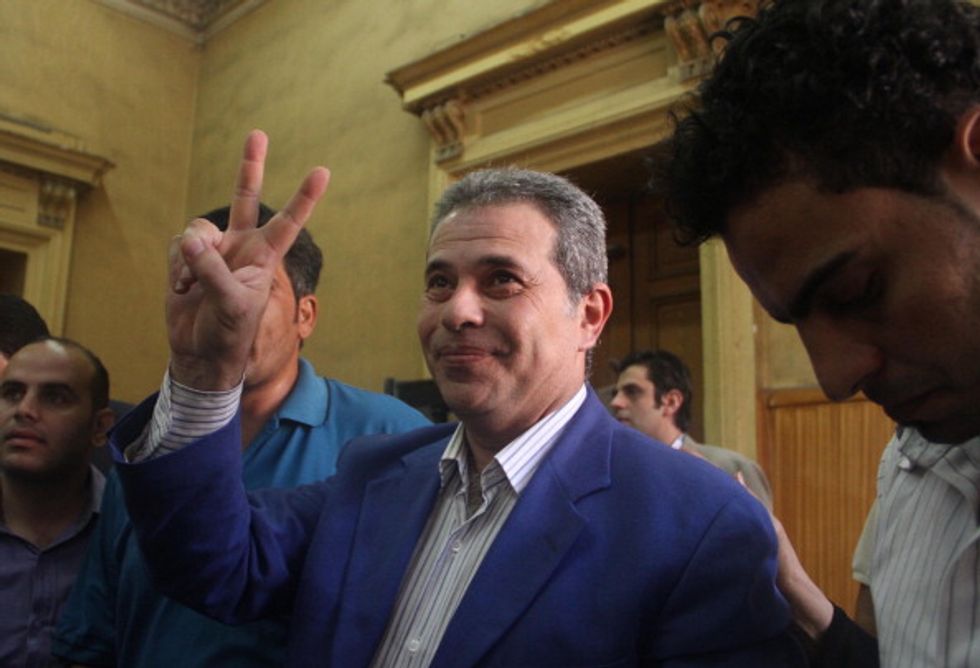 Egyptian talk show host and parliament member Tawfiq Okasha. (Photo credit should read AHMED MAHMUD/AFP/GettyImages)
The parliament formed a committee to look into parliamentarian Kamal Ahmed's assault against Okasha during Sunday's session, according to the parliament's website. But Ahmed himself was unrepentant and some parliamentarians were openly supportive of the attack.
"I delivered the Egyptian people's message, and Egyptian martyrs, and the Palestinian people's rights, and our historical symbols such as Gamal Abdel Nasser," Ahmed told the YouTube channel Parlamany, which tracks Egyptian parliamentary affairs.
"As a parliamentarian and as an Egyptian citizen, I think that Kamal Ahmed's shoe will enter history books, and that it represents the Egyptian people's rejection to normalization with Israel," said MP Osama Sharshar in an interview with Parlamany.
Egypt has full diplomatic relations with Israel, but directly dealing with Israelis remains deeply taboo in Egyptian society even after the two countries signed the 1979 U.S.-sponsored peace treaty.
Following the shoe beating, Okasha spoke with the Parlamany channel saying of Ahmed, "If he hit me 30 times with a shoe on my head, he is still like my father."
Okasha said he met with Koren in order to serve Egypt's interests. That included a discussion of Ethiopia's under-construction Grand Renaissance Dam. Cairo fears the dam may cut into Egypt's vital share of the Nile waters.
"They (Israel) are the ones building the Renaissance Dam, are we fooling ourselves?" Okasha asked, making reference to a widely-believed conspiracy theory that Israel is supporting Ethiopia's dam in an attempt to harm Egypt's interests.
Emmanuel Nahshon, spokesman for the Israeli Foreign Ministry, said the meeting had taken place at Okasha's invitation.
"The importance of the meeting was in the fact that it took place," he said.
Koren spoke with Israeli Army Radio Sunday morning before the shoe assault, saying he would meet again with the Okasha, if invited, despite the uproar.
"This will continue, of course, because we pledged to keep talking about the issues and attempts to promote them," Koren said. "It is possible that we will also manage to get some positive results from this."
Okasha had announced a week before the meeting took place on TV that he had invited the ambassador to have dinner with him at his home.
Okasha's meeting with Koren has been heavily discussed on public affairs shows, and MENA reports the parliament on Sunday decided to form a special committee to investigate the meeting.