After weeks of criticism for being too pro-Donald Trump, MSNBC host Joe Scarborough said the Republican presidential frontrunner's inability to fully answer the question about David Duke and the Ku Klux Klan were "disqualifying."
"That's disqualifying right there. It's breathtaking, that's disqualifying right there. To say you don't know about the Ku Klux Klan? You don't know about David Duke?" Scarborough said Monday on Morning Joe.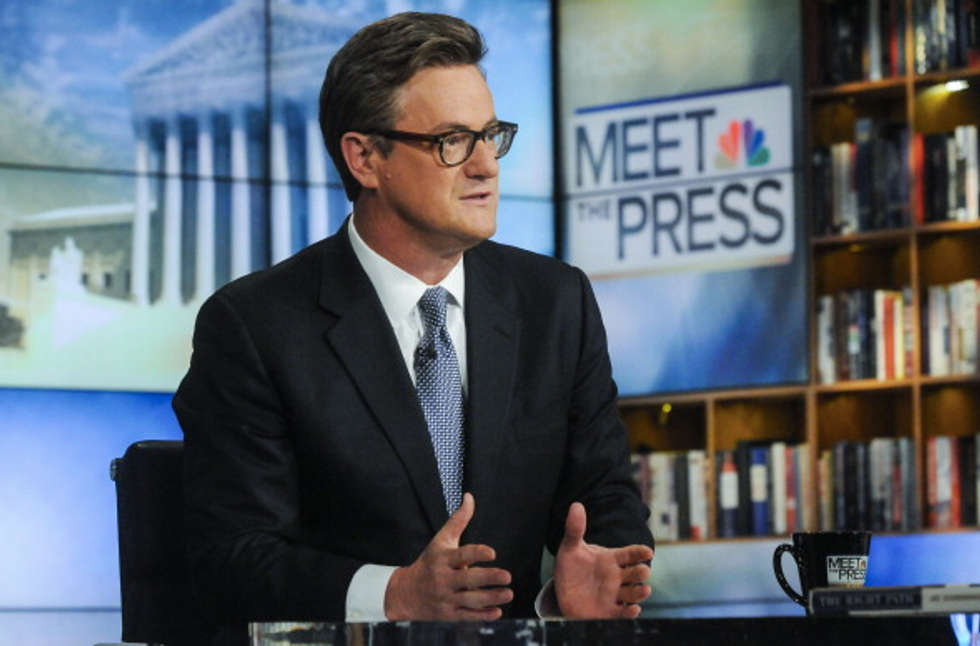 Joe Scarborough, Host, MSNBC's Morning Joe, appears on 'Meet the Press' in Washington, D.C., Sunday, Nov. 10, 2013. (William B. Plowman/NBC/NBC NewsWire via Getty Images)
Scarborough then talked to panelist Willie Geist.
"The most stunning thing, Willie Geist, is this isn't buying him a single vote," Scarborough continued. "I mean, is he really so stupid that he thinks southerners aren't offended by the Ku Klux Klan and David Duke? Is he really so ignorant of southern voters that he thinks this is the way to their heart?"
Geist agreed.
"It's hard to imagine an easier political question than 'Will you disavow David Duke and the Ku Klux Klan?'" Geist said. "Unless you don't really want to disavow David Duke and the Ku Klux Klan…"
Scarborough said, "I'm sorry, I don't understand. What's the purpose? You don't know the Klan? Who does this help?"
Trump later claimed CNN's "lousy earpiece" was to blame.
Duke, the one-time leader of the klan, endorsed Trump last week. Trump said at a press conference with New Jersey Gov. Chris Christie he disavowed the endorsement. However, this weekend, he claimed on CNN he didn't even know who Duke or the KKK was. However, he blasted Duke during an interview in 2000.
(H/T: Mediaite)