NASHVILLE — Rafael Cruz responded to liberal blogs and news reports that have taken aim at claims that he made about how his son, Ted Cruz, and his family prayed for months before his presidential announcement, feeling as though God have Cruz the peace that he needed to run.
The elder Cruz, who was in Nashville, Tennessee, last week for the National Religious Broadcasters convention, told TheBlaze that he had explained in radio and TV interviews that his son and his family had spent six months mulling over the presidential decision.
"[Ted] and his family spent six months in prayer trying to seek direction from the Lord," Cruz said, going on to describe one particular Sunday in which the entire family met for prayer. "One Sunday after those six months of prayer ... after church, we met in the pastor's office and we were on our knees for two hours."
Listen to Cruz discuss how his family's prayers led his son to run for the presidency (comments are at the 14:30 mark):
It was after the family prayed that day that Ted's wife, Heidi, shared a story about how she had received a Christian CD from one of her family members. She recalled playing it while driving in the car one day — and some lyrics truly resonated with her.
"Jesus was saying in [one] song, 'Seek my face, not my hand' and that statement impacted her so strongly that she began weeping," Cruz said. "She had to get off the road and park, because she was weeping. She couldn't drive."
He continued, "She played the song before she told that story and there was a sense of awe when she told that story."
Cruz said that everyone in the room was impacted by the statement in the song, and that there was a sense of peace that led Ted Cruz and his family to feel as though it was prudent to press on with the presidential process.
"It's like God was saying in that statement, 'Seek me, not what I can give you,'" Cruz said. "And it was at that time ... Ted said, 'Lord, here am I. "Whatever your will is I'm willing to do it' — and that's when he felt the peace to basically move forward and announce that he was running for president. It was just someone out of a sense of peace that that was the right thing to do."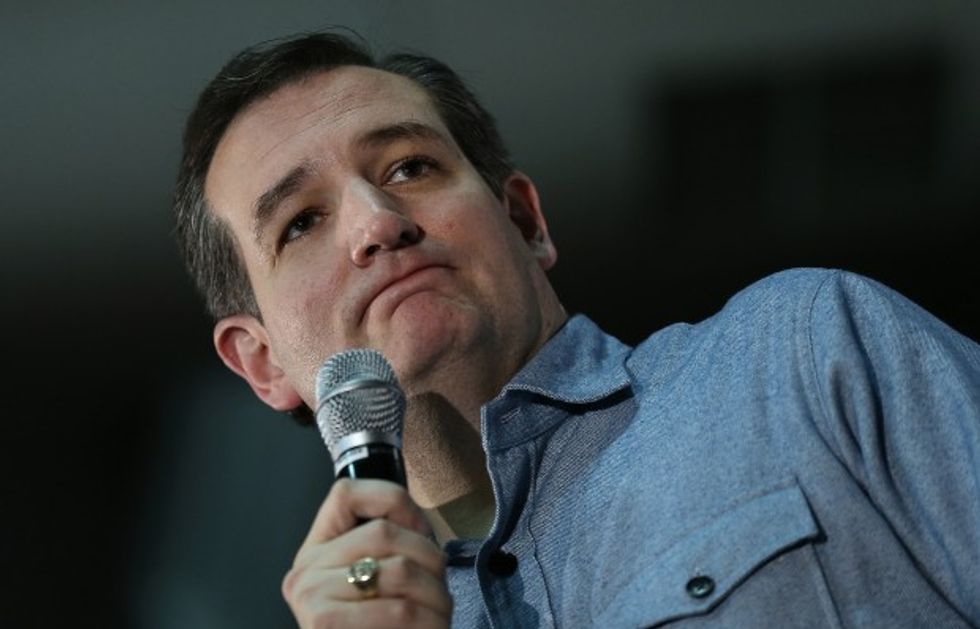 Republican presidential candidate Sen. Ted Cruz (R-TX) speaks to Iowa voters at the Iowa State Fairgrounds January 31, 2016 in Des Moines, Iowa. (Win McNamee/Getty Images)
Inquisitr called the story "a little bizarre" and Mother Jones said in an article titled, "Ted Cruz's Dad: My Son Ran for President After God Sent His Wife a Sign," that these claims were unsurprising considering that the elder Cruz is, in the outlet's view, "a freelancing evangelical who has promoted an extremely fundamentalist version of Christianity and decried those, including other Christians, who do not share his religious views."
It should be noted that it is not uncommon for Christians to pray in an effort to seek guidance from God — acts that many believers partake in on a daily basis as they face both small and large-scale decisions.
Rafael Cruz recently released the book, "A Time for Action: Empowering the Faithful to Reclaim America."
--
Follow the author of this story on Twitter and Facebook: