Businessman Donald Trump's claim that his "Trump University" has an "A" rating from the Better Business Bureau is patently false, according to fact-checking website PolitiFact.
The institution, which had to change its name to "Trump Entrepreneur Institute" because it wasn't a real university, has been the center of much recent controversy surrounding the Manhattan mogul's past.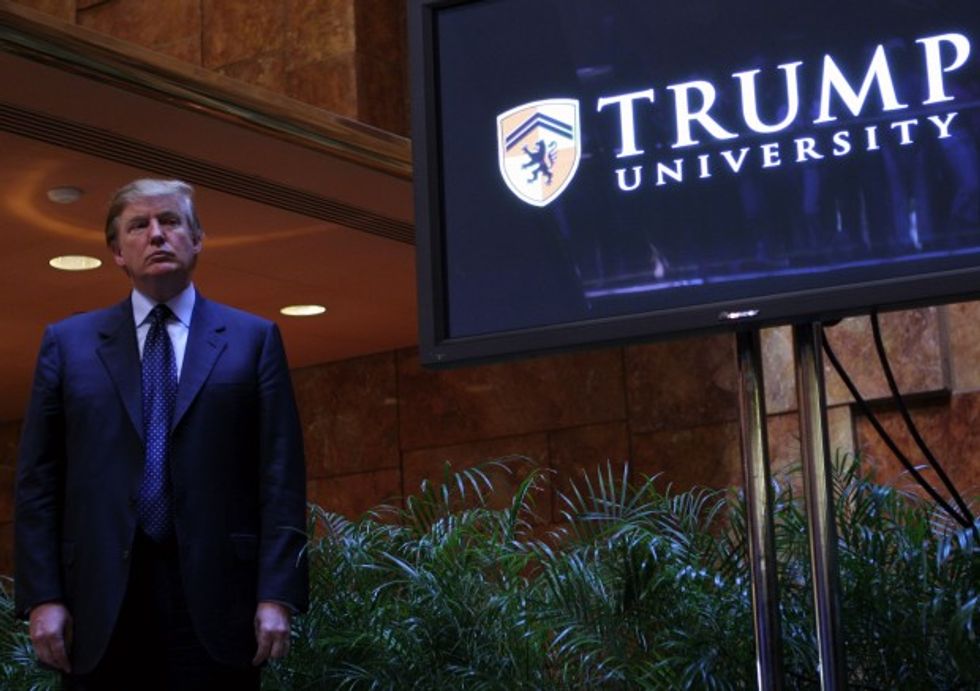 Real estate mogul Donald Trump holds a media conference announcing the establishment of Trump University  March 23, 2005. (Getty Images/Thos Robinson)
Trump's claim came Sunday during an interview with Chuck Todd on NBC's "Meet the Press." However, PolitiFact's investigation found that the institute's most recent BBB rating was a "D-minus." The organization currently doesn't have a rating because it ceased operation in 2011.
"Trump said about his entrepreneur institute that 'we have an "A" from the Better Business Bureau.' Literally speaking, that is inaccurate," the website said. "The Better Business Bureau gives the program no rating today because it's no longer a going concern."
"What we do know, from several published reports and archived Web pages, is that the university had a D in 2010," the website added, noting those news reports. "Trump's claim is literally wrong and also ignores the university's lower Better Business Bureau scores. We rate it False."
However, the investigation did find that the institution once received an A rating, although it is not known which year it was because the BBB only publishes ratings for the current year:
We don't know when the bureau might have given Trump University a top grade, but based on the Internet Archive, the last time the Better Business Bureau gave the university any rating at all was 2010, when it give it a D-minus. That assessment showed up in plenty of news articles.
The institution has been a source of much headache for the GOP front-runner and is currently the subject of three lawsuits — two of them class-action. The program, which was sanctioned by the state of New York for falsely declaring itself a university, has been described as a "classic bait-and-switch scheme."
—
Follow the author of this story on Twitter and Facebook:
[facebook //www.facebook.com/plugins/like.php?href=