There's only one reason Liberty University president Jerry Falwell Jr. should be supporting Republican presidential candidate Donald Trump, according to former Texas Gov. Rick Perry (R), and that reason is to share the gospel with the GOP front-runner.
"I hope Jerry Falwell and some of these other Christians — Christian leaders that have thrown their support behind Mr. Trump — I hope the reason they're doing that is so they can say, 'Listen, we can get close to you so we can help save you,'" Perry, a top surrogate for GOP contender Texas Sen. Ted Cruz, said Monday on The Glenn Beck Radio Program.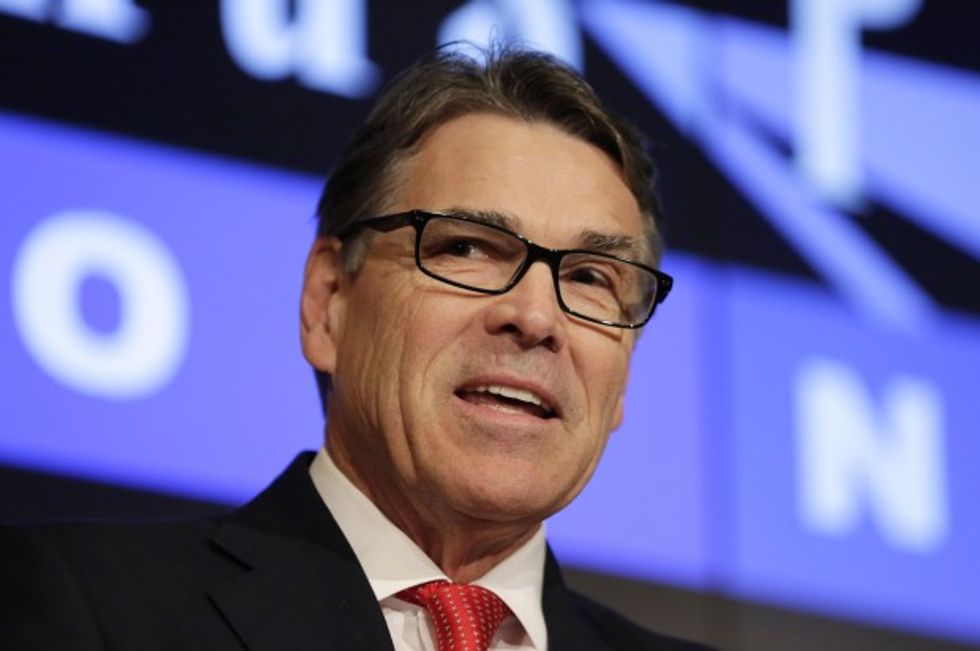 Former Texas Gov. Rick Perry speaks during a news conference Wednesday in Austin, Texas. (AP Photo/Eric Gay)
Perry went on to call Falwell's endorsement both "troubling" and "stunning," challenging Trump's Christian credentials.
"You know, and I bet the same would be true about your listeners, is that, you know, playing loose with, standing up and holding the Bible, that I'm a Christian, yet he never asked God for forgiveness, I don't get that," the former governor said.
Agreeing with Perry, radio show host Glenn Beck, who also supports Cruz, referred to a BuzzFeed story that unearthed several unflattering comments Trump said about women in past interviews on the "Howard Stern Show," a radio program on which Trump regularly appeared.
"I posted it yesterday [on Facebook] and said, 'Evangelicals, Christians, if you're for Trump, I want you to take this after church today, and I want you to play all of these in front of your children, and just have a good conversation about the next president of the United States,'" Beck said.
Perry continued his criticism, asking how Falwell could endorse Trump, voicing concerns over how the Christian leader could defend his support of the real estate mogul.
"I go back to a very well-known, a very widely known Christian leader like Jerry Falwell Jr. standing up and endorsing him. What do you tell the parent of a child, a student at Liberty University?" Perry said. "I mean, how do you explain that? Send your child here. This is what we are supporting. That's stunning."
Falwell has repeatedly said the endorsement is his personal support and does not reflect Liberty, a 501(c)(3) organization.
Complimentary Clip from TheBlaze TV The full episode of The Glenn Beck Program, along with many other live-streaming shows and thousands of hours of on-demand content, is available on just about any digital device. Click here to watch every Glenn Beck episode from the past 30 days for just $1!
—
Follow the author of this story on Twitter: