Just a couple of days after making an on-air attempt to show solidarity with the black community, Best Supporting Actor nominee and liberal Mark Ruffalo found the tables turned.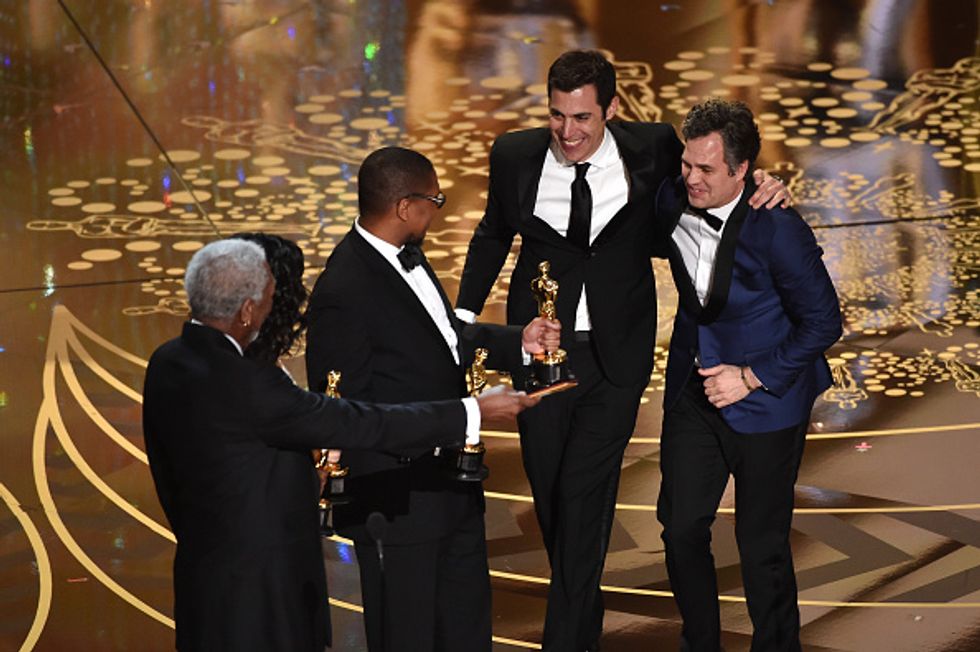 Screenwriter Josh Singer (C) and actor Mark Ruffalo (R) of Best Picture winner 'Spotlight' celebrate onstage with actor Morgan Freeman (L) during the 88th Annual Academy Awards at the Dolby Theatre on February 28, 2016 in Hollywood, California. (Kevin Winter/Getty Images)
On the night of the Oscars, Ruffalo spoke to a reporter about the racial discrimination that many have claimed plagues awards shows like Oscars:
Yeah, the, the uh, there's the Oscars so White this year and that's, um, that's a real issue. And I think it's time for our country to have this discussion in an earnest way. It's happening in the criminal justice system, the education system, it should be happening here in the Hollywood. Who else to represent the needs of these people than their fellow liberals?
The comments are only awkward because on Friday the "Spotlight" actor appeared on "Real Time with Bill Maher," during which Maher and the other guests discussed the #BlackLivesMatter movement. At one point in the show, Maher referred to black people as "they," which did not go over well with Ruffalo, who jumped back in his chair to express his disbelief.
Watch the moment below:
"These People" - Mark Ruffalo's Awkward Commentsby tommyxtopher
(H/T: Mediaite)