Making his case in the South, Republican presidential candidate Texas Sen. Ted Cruz, has taken aim at rivals Donald Trump and Florida Sen. Marco Rubio for their positions on guns.
"I will not compromise your Second Amendment right to keep and bear arms," Cruz told a crowd in Lawton, Oklahoma, Sunday evening, according to the Texas Tribune. "You know, it's worth noting my two leading competitors have both previously supported banning firearms. Donald Trump supported Bill Clinton's nationwide ban on many of the most popular firearms in America, and Marco Rubio, when he was on the city council in West Miami, voted to ban firearms in public parks."
"Let me tell you this: There is no universe in which I would ever support banning guns because I believe in the Second Amendment," Cruz added.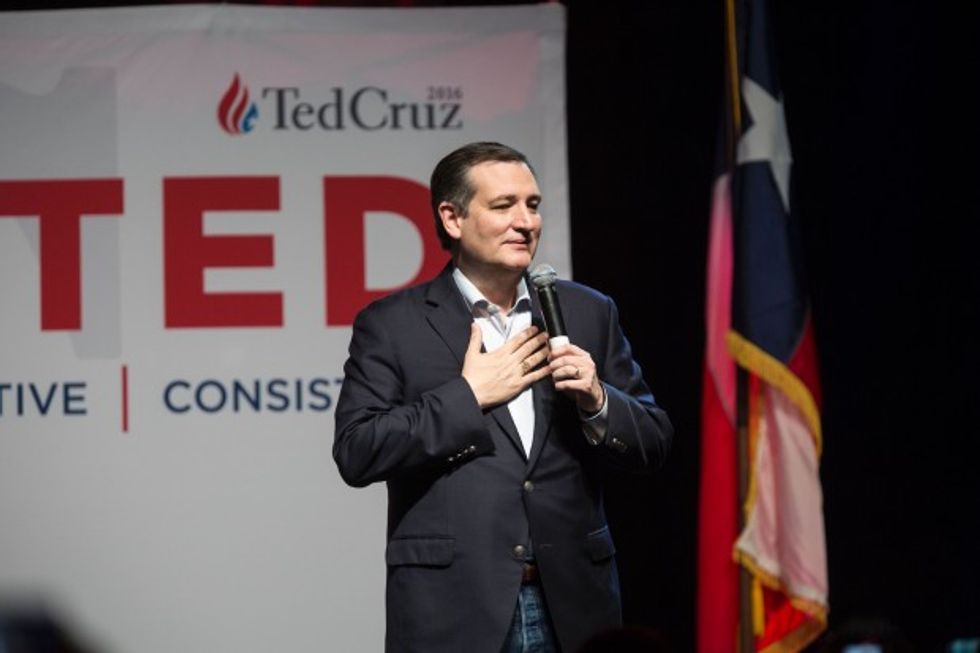 Texas Sen. Ted Cruz speaks at a presidential campaign rally in Dallas Monday. (Getty Images/Laura Buckman/AFP)
According to the Tribune, in 1999, the West Miami City Commission unanimously approved a resolution asking the Florida Legislature "to prohibit firearms in county or municipal parks, recreational facilities, or playgrounds, which are locations where children frequently congregate."
In a video that recently emerged, then-West Miami City Commissioner Rubio apparently attended the meeting, and the Tribune says he voted for the resolution.
In a statement to TheBlaze, a spokesperson for the Rubio campaign did not respond to the specific accusation about Rubio's vote in Florida, but defended the senator's record of fighting for Second Amendment rights.
"Sen. Cruz is getting increasingly desperate and has given up trying to tell voters the truth," Olivia Perez-Cubas said. "Marco is proud of his strong support for and record of standing up for the Second Amendment, and no amount of Cruz lies can change that."
Cruz's criticism of Trump is based on a passage from his book "The America We Deserve," published in 2000.
"The Republicans walk the NRA line and refuse even limited restrictions," Trump wrote. "I generally oppose gun control, but I support the ban on assault weapons, and I also support a slightly longer waiting period to purchase a gun."
A Trump campaign spokesperson told the Tribune that Trump "is a member of the NRA and a major proponent of the Second Amendment."