Baseball legend and ESPN baseball analyst Curt Schilling said Tuesday that Democratic presidential front-runner Hillary Clinton should go to prison for using a private email server to conduct business — which included classified and top-secret information — during her tenure as secretary of state.
Speaking with Kansas City sports-talk radio hosts Danny Parkins and Carrington Harrison, Schilling said that Clinton's offenses are so bad that she should be "buried under a jail somewhere."
"If she's allowed to get to the general election before she's in prison, I'll be stunned and upset," Schilling began, as first reported by The Big Lead. "Because I think she's shown her true colors all along the way, and I'll ask you this: Do you see her being anything even remotely different than what we've had?"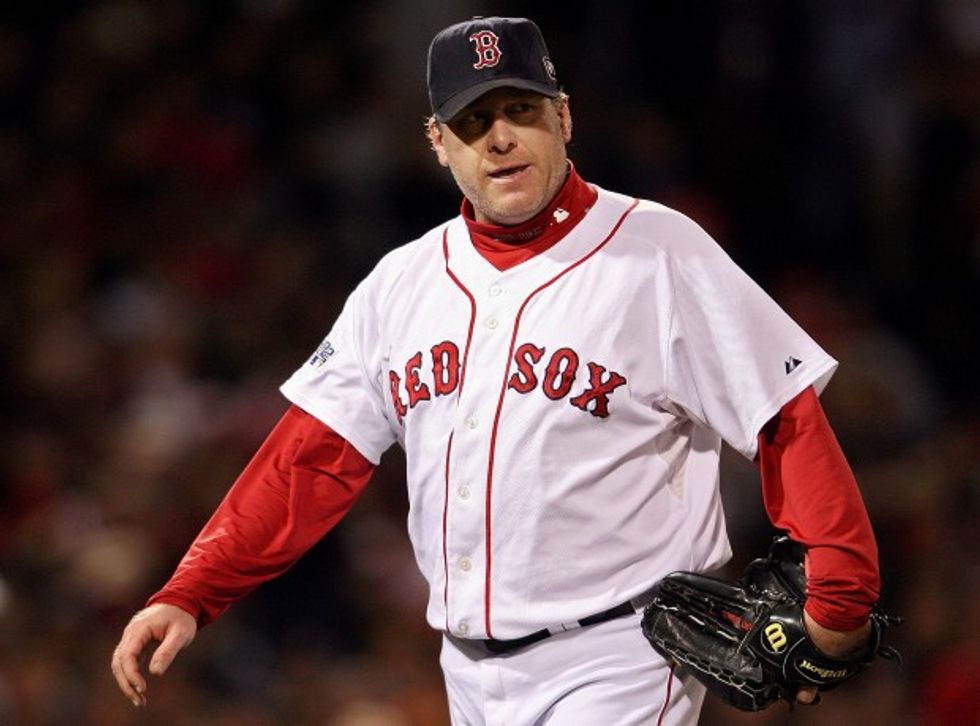 Curt Schilling pitched for the Boston Red Sox in the 2007 World Series. (Getty Images/Nick Laham)
"I don't care what her titles are," the onetime World Series MVP continued. "She's done nothing. She's done absolutely nothing to further the success of the middle class. She jumps on the backs of people who she wants to be dependent on government. She needs these people to be dependent on her."
When asked by the show's hosts whether or not he believes her offenses are worthy of a prison sentence, Schilling said he "hopes" they are.
"I hope she does [go to prison]," he said. "If I'm gonna believe — and I don't have any reason not to believe — that she gave classified information on hundreds if not thousands of emails on a public server after what happened to Gen. [David] Petraeus, she should be buried under a jail somewhere."
However, Schilling did not just set his sights on Clinton. He also tore into GOP front-runner Donald Trump for not giving specifics in his policy positions — a common criticism of the real estate tycoon.
"I'm tired of the 'We're going to make America great again.' I get it, but what does that mean?" Schilling said. "If nothing else, Donald Trump has proven to politicians in every corner in the globe that America's voting bloc is giving a giant middle finger to the establishment."
He added, "Listen, he hasn't elaborated, like, on two sentences for a policy. 'We're going to build a wall and Mexico is going to pay for it.' OK, how? 'Well, I'll tell you later.'"
Schilling is no stranger to political controversy. Last year, he was suspended by ESPN after he shared a meme on social media that compared Muslims to Nazis, according to the New York Post.
Listen to Schilling's comments below. They start around the 28-minute mark:
(H/T: Bleacher Report)
—
Follow the author of this story on Twitter and Facebook:
[facebook //www.facebook.com/plugins/like.php?href=