You're a high school teacher, and you just left your classroom to go patrol the hallways.
You leave your cellphone on your desk — and it's unlocked.
Into the scene steps a student who grabs your phone, opens the apps, heads to your photo gallery, finds a semi-nude photo of you that you gave to your spouse for Valentine's Day, takes a photo of that photo and then sends it to other students.
And what's more, that student later looks at you and says "your day of reckoning is coming."
Then once the deed is public and discovered by your superiors, who do you imagine gets the blame?
It all happened to Leigh Anne Arthur, a teacher who's been with South Carolina's Union County School District for 13 years — and the higher-ups said she was at fault.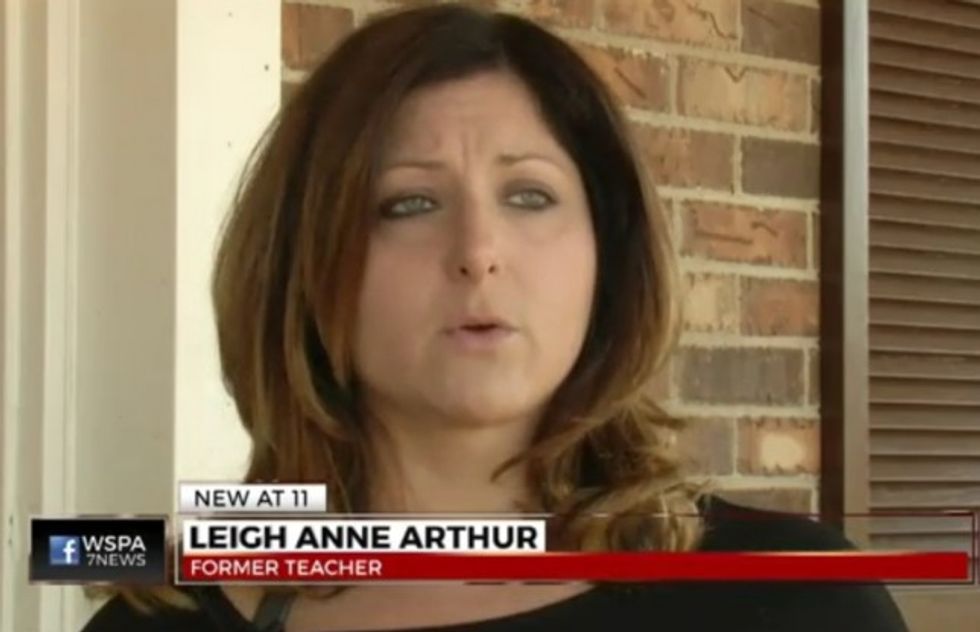 Image source: WSPA-TV
Interim Superintendent David Eubanks said Arthur was wrong to leave her phone unlocked, which made it available to her students at Union County High School, WYFF-TV reported. Eubanks said there's a concern that Arthur could be contributing to the delinquency of a minor, WSPA-TV added.
Arthur told WSPA the district wanted her to resign, so that's what she did on Tuesday, WYFF said.
And as for the student in question, Arthur told WSPA that to her knowledge he hasn't been expelled, which she said should be the punishment under district policy.
"The whole premise of my privacy being invaded [is] being ignored and that's what's wrong," she added to the station.
The Union County Sheriff's Office is investigating, WYFF reported. Eubanks told the station that the sheriff's office will determine if the student gets charged.
Whatever comes from that, Arthur told WSPA she plans on pressing charges against the student next week.
And how do parents and students feel about what's happened? Some of them are signing an online petition to get her back teaching.
"Mrs. Arthur has not only shown tremendous dedication to her students, but also the mechatronics program itself, often reaching out to local businesses and colleges to get materials that would not normally be available for the class," the petition reads, which has received nearly 1,400 signatures as of Wednesday afternoon.
Arthur told WYFF that even if she's asked to return, she probably won't at this point.
But she told WSPA she has a message for the student — and it might come as a surprise:
I forgive you. It don't make it anymore right. But what's done is done, and I hope you learned your lesson. And I hope that you learned from this mistake, and I hope that you have a wife one day that you treat like gold, and you won't want this to ever happen to her.
(H/T: New York Daily News)