GOP front-runner Donald Trump is openly advocating for heinous war crimes, according to Republican Rep. Adam Kinzinger (Ill.), a former Air Force combat pilot.
Kinzinger, who served tours in both Iraq and Afghanistan, said on the "Steve Cochran Show" Thursday that the billionaire businessman makes him "sick."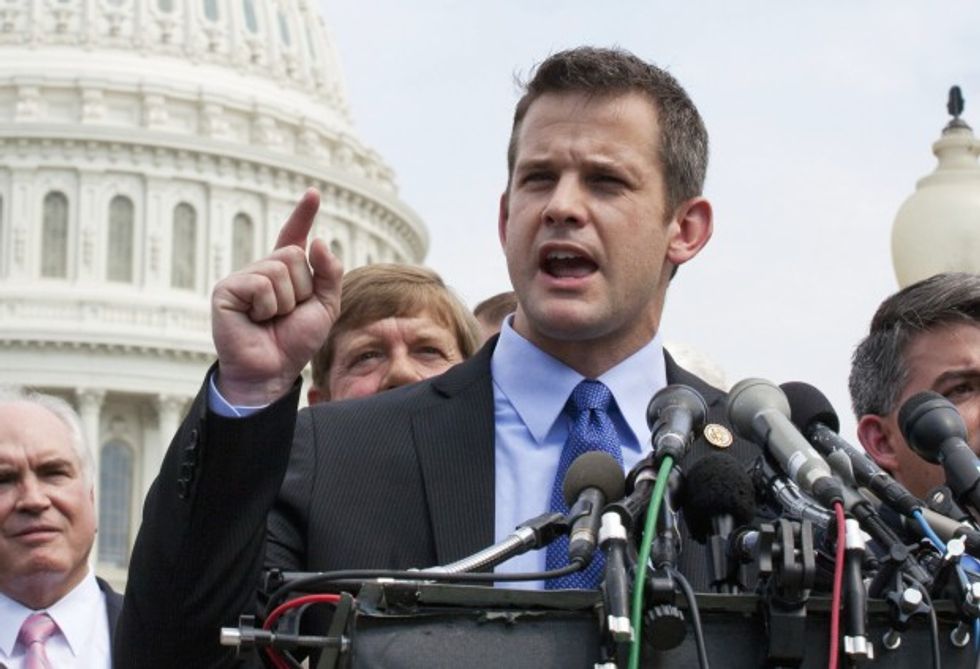 Adam Kinzinger speaks during a news conference on Capitol Hill. (AP Photo/Harry Hamburg)
"For the leading Republican presidential candidate to advocate war crimes, which he does openly, just advocates war crimes, doesn't matter, makes me sick really," Kinzinger said. "Especially as somebody that's defended the country. It's just terrible."
Kinzinger was referring to controversial comments Trump made last December when he said that in the fight against the Islamic State and other terrorist groups, the U.S. must also target their families. Kinzinger said that if a solider did what Trump is advocating, they would be guilty of war crimes and likely sent to prison.
"What Donald Trump, as wanting to be president of the United States, is advocating is a war crime that would force every soldier that did, i.e. killed the relatives of terrorists, tortured regardless of whether it not it works, the things that he's advocating would force all of these people in jail," he said.
Kinzinger added that the country has two options when it comes to Trump: take him at his word or acknowledge that he is all "bluster." In the case of the former, Kinzinger said Trump would be very much like Italian dictator Benito Mussolini.
"Now, you have to do one of two things," he said. "You either believe that Donald Trump is all bluster, which most people do but for some reason they like that, or you take him at his word, in which case he is advocating, like what Benito Mussolini did, war crimes."
—
Follow the author of this story on Twitter and Facebook:
[facebook //www.facebook.com/plugins/like.php?href=