NATIONAL HARBOR, Md. – Wisconsin Gov. Scott Walker seemed to be speaking to disenchanted conservatives Thursday as Donald Trump moves closer to the Republican presidential nomination.
"I just want to remind you that no matter what you think about what's happening in the presidential election, you can't give up," Walker said, speaking at the 2016 Conservative Political Action Conference. "We need your help in the states. We are depending on you at the state and the local level. That's what Our American Revival is all about. We are trying to take America back one state, one community at a time. That's why I need your help now more than ever."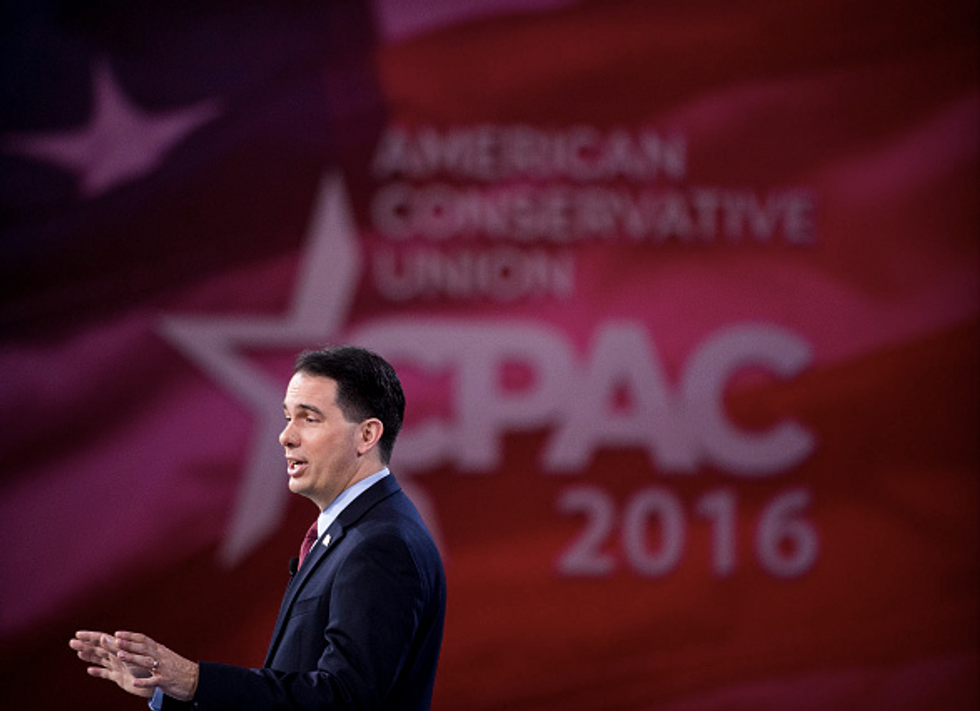 Wisconsin Republican Gov. Scott Walker speaks at the American Conservative Union's CPAC conference at National Harbor in Oxon Hill, Maryland, Thursday. (Bill Clark/CQ Roll Call)
Walker dropped out of the presidential race last fall and called for other Republican candidates to drop out so a conservative could unite behind an alternative to Trump.
The governor said nothing in his CPAC speech about Trump or other GOP presidential candidates. He noted that Republicans have the chance to pick up five governor seats this year, including in liberal Vermont. He also stressed the importance of keeping conservative governors in office.
"Matt Bevin's election last fall is a prime example of how far conservatives have come over the past seven years," Walker said. "Before his election last November, there were only two Republicans who had been elected governor in the Commonwealth of Kentucky since World War II. Today, Matt is one of 31 Republican governors in office all across this country. We have a chance this fall to grow that number, but first we need to protect some of our great conservatives."
Walker noted his success in Wisconsin with increased employment, a college tuition freeze, defunding of Planned Parenthood, a concealed carry law and voter ID law all in a blue state.
"Conservative, positive reforms actually work. How do we do it?" Walker said. "We did it like other states did it. We got government out of the way."
.@ScottWalker discusses why conservatism is so important in this election. #CPAC2016 https://t.co/vW15Zgylyt

— CPAC (@CPAC) March 3, 2016