When two tenants recently received their lease from their landlord via email as an editable Word document rather than a locked PDF file, the two schemers decided to slip in a sly alteration before returning the document for the landlord to sign.
Reddit user GloriousGherkins posted a thread on the website Thursday, claiming to have had some fun with the lease the two tenants had recently received.
"My lease came as a Word file instead of PDF. I made a slight change before signing it," GloriousGherkins stated before posting a picture of the added stipulation.
Listed as bullet point 16 on the lease, GloriousGherkins had inserted a brief paragraph titled "BIRTHDAY CAKE," which stated, "Lessor shall provide birthday cake for Lessee(s) on the weekend closest to their birthdays, which are June 7th and February 17th. Vanilla cake is not acceptable."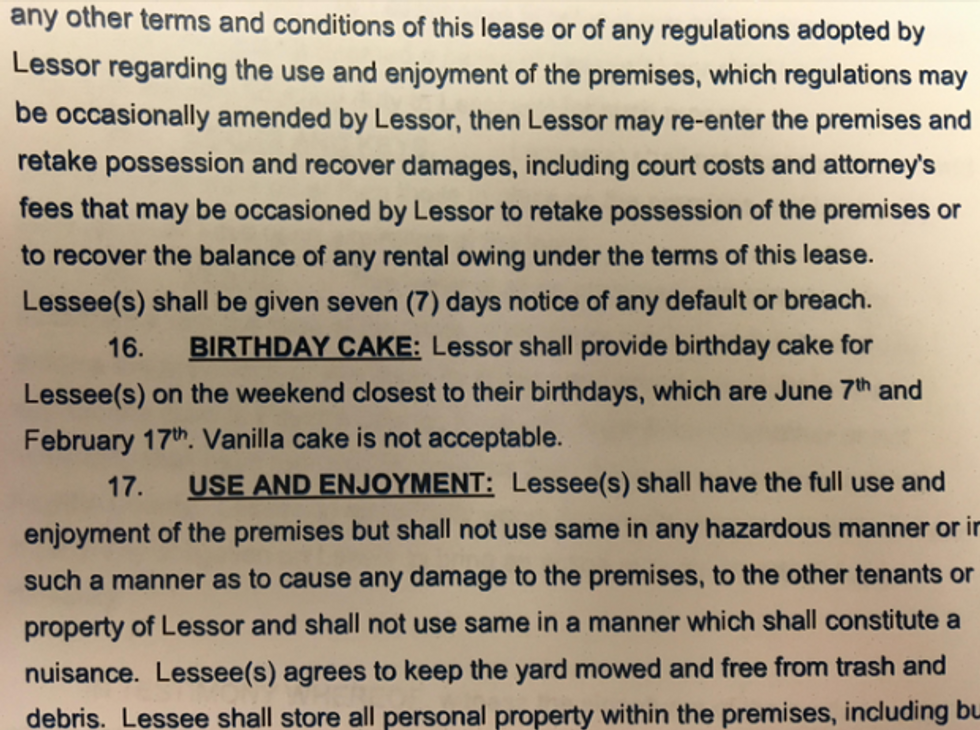 Image source: Imgur.com
One concerned commenter on the Reddit thread asked the tenants, "…… can ... can you do this? im [sic] seriously asking."
But GloriousGherkins maintains that the landlord should have read the agreement carefully before signing it. "He signed it after I made the change, and I'm going to hold him to it," GloriousGherkins said.
The post on Reddit has since become viral as users and commenters marveled over GloriousGherkins' cheek.
"This is exactly why you read all documents before you accept them," wrote one commenter.
"You added cake but chose to not edit out mowing the lawn??" wrote another.
"Whats [sic] wrong with vanilla? besides there are so so many worse varieties you've left yourself open to," a skeptical commenter wrote.
"VanillaLivesMatter And I am their patron saint," another offered.
(H/T: Huffington Post)
—
Follow Kathryn Blackhurst (@kablackhurst) on Twitter