Today, using amazing technology, we have the ability to predict dangerous tornadoes, hurricanes, winter storms and terrorist attacks. The question is, "Are you ready?"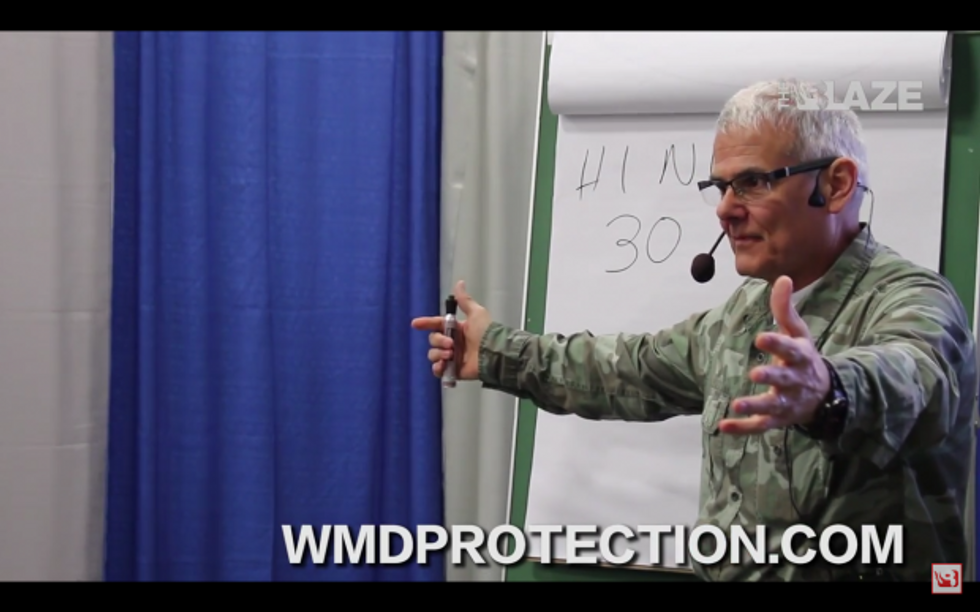 David Jones speaks about chemical, nuclear and biological threats at the SGK Gun & Prepper Show in Doswell, Virginia. (Michael Mason/TheBlaze)
I had the pleasure of listening to a lecture from David Jones at the SGK Gun & Pepper Show in Doswell, Virginia. Mr. Jones is a retired 24-year veteran of the U.S. Army, where he served as an chemical officer. He taught nuclear biological and chemical warfare defense to military personnel all over the world. He is recognized as a weapon of mass destruction expert, and six months after 9/11 occurred David was recalled to active duty.
He spent the next 22 months in the Middle East traveling to 16 different countries conducting vulnerability assessments on U.S. interests in the area. Jones is now an emergency management specialist working for the federal government at a secure facility and has worked with the Pennsylvania Emergency Management Agency, NASA and the U.S. Air Force Global Strike Command where he was the only civilian on a nuclear weapons accident response team.
After his talk, I had one question: "What is the biggest threat to America today?" Check out his response:
Another thing I learned at the expo is, in spite of all the capabilities for advance warnings, Americans are still quite poor at preparing for these disasters. Many of us really believe that it can't happen to us.
In a 2006 poll conducted by Time magazine, 56 percent of respondents said that they had gone through a major disaster. However, only 16 percent believed they were "well prepared" for the next one. Denial, it seems, is an American way of life.
During his lecture, Mr. Jones also "removed the mystery" of the Zika virus:
Find out more about Nuclear, Biological and Chemical weapon defense from David Jones at WMDprotection.com.
—
Follow Michael Mason (@MasonONAIR) on Twitter