The word "emergency" has a very different meaning when you're a toddler.
Aaliyah Garrett of South Carolina needed help getting dressed one morning. It was a fashion emergency.
The 2-year-old did what she was taught to do when faced with dire circumstances — she called 911.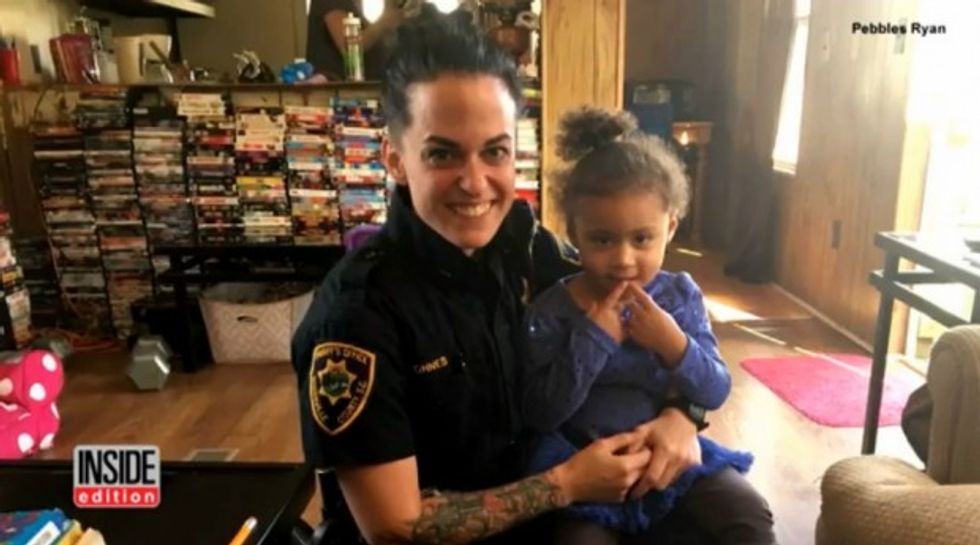 Image source: Inside Edition

Aaliyah's grandfather, unaware that a call had been made, answered the door to find Deputy Martha Lohnes, ready to save the day.
While her grandfather explained that everything was fine, Aaliyah, still half-dressed, ran up to greet Lohnes.
Deputy Lohnes sat the toddler down and helped her out of her predicament, one leg at a time. Aaliyah then explained that she required assistance with her shoes. But even after this, she still wasn't quite ready to say goodbye to her new hero.
"She jumped in my arms and wouldn't let me go," Deputy Lohnes told Inside Edition.
Deputy Lohnes said that it's fairly common for children to play with the phone and accidentally call 911.
"We normally sit them down and say, 'Hey, this is for emergencies only,' but she was only 2," she explained. "I was impressed that she could dial at all."
Aaliyah's mom, Pebbles Ryan said that while she had taught her daughter how to dial 911, she's not sure that Aaliyah really understood the concept.
"I always told her to call when she needed help, but I didn't know she'd take it to that extent!" Ryan said.
"I came home to find out that the police had put her pants on for her and now she has a new friend for life." Ryan said. She also noted that Aaliyah is normally able to dress herself, but the pants plight was a little more than she could handle
"My heart went out to Aaliyah, because not too long ago, I was the little girl dialing 911 just so I could see police officers show up at my house," Lohnes said. "I was so enamored by police officers as a kid."
The folks at the Greenville County Sheriff's Office praised Deputy Lohnes for the way she conducted herself.
"You can't train the heart, charisma, or angle she took on this," Deputy Michael Douglas told Inside Edition. "We try to recruit those natural attributes."
Deputy Douglas shared that more than 250,000 accidental 911 calls were made in 2015 in Greenville County alone.
Watch:
(H/T: Inside Edition)