Captain Clay Higgins, also known as 'Cajun John Wayne,' announced Saturday morning that he will be stepping down from his position at the St. Landry Parish Sheriff's Office in Louisiana.
Higgins is known for his "Crime Stoppers" videos in which he shames "dumb" criminals. His resignation was made public during an impromptu press conference held in front of the St. Landry Parish Courthouse.
Captain Higgins' most recent video, which featured the "Gremlins" gang, was seen as particularly controversial by St. Landry higher ups.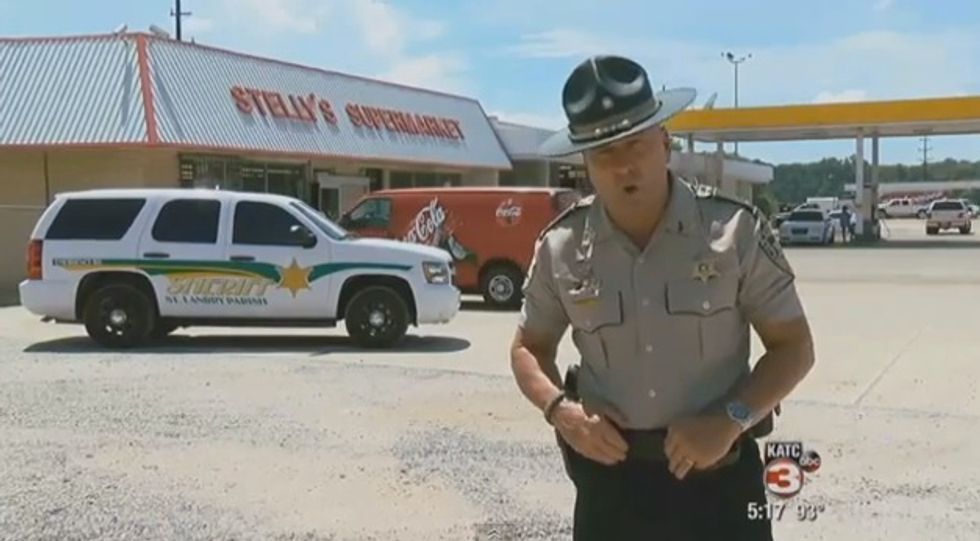 Lt. Clay Higgins (Image source: YouTube)
The former public information officer said Saturday that his decision came after Sheriff Bobby Guidroz gave him orders he could not follow.
Guidroz explained, in a statement the direction he gave Higgins:
My orders to Higgins was to, 'tone down' his unprofessional comments on our weekly Crime Stoppers messages and had nothing to do with the Gremlins video that appeared on the networks. I agree with the Gremlins video. First of all; I repeatedly told him to stop saying things like, 'you have no brain cells, or making comments that were totally disrespectful and demeaning. Second; Clay Higgins appeared on the cover of a local magazine in full dress uniform without my approval and permission. That too is something he didn't like me controlling.
According to KLFY-TV, Guidroz also said it was his duty to ensure all messages delivered from his office to the public be "professional, on point and truthful."
"If Clay Higgins cannot agree with my words, thoughts and message, then he is correct in resigning his position," the sheriff added.
Higgins' Feb. 17 video gained the attention of the ACLU and several other community organizations who voiced their complaints to the sheriff's office.
According to a representative from the St. Landry Parish Crime Stoppers board, Higgins will no longer be the spokesperson for Crime Stoppers.
Higgins announced at the news conference that he would remain a spokesperson for Acadian Ambulance. A representative for the company confirmed Higgins' claim.
"I would die rather than sacrifice my principles," Higgins said during a surprise news conference. "I would give my life. I'd leave my wife without a husband, my children without a daddy rather than kneel to the very forces of evil that I have so long stood against."
Watch:
(H/T: KLFY-TV)