Glenn Beck on Sunday compared Republican presidential frontrunner Donald Trump to the Adolf Hiter of 1929, the charismatic politician who rose to power before the Holocaust on "anger" and "nationalism."
Appearing on ABC's "This Week" Sunday to discuss the #NeverTrump movement, Beck said the "GOP has one last chance to listen to the people."
Beck told ABC's George Stephanopoulos that conservatives are "very very angry because the GOP did not listen the first time around" to "the Ron Paul people" and the "Tea Party people," who he said were "way ahead of the curve."
"The people are speaking clearly, and there are two ways to go: anger and nationalism, which has been done before in history," Beck said, holding up a ballot for Hitler's election, written in German.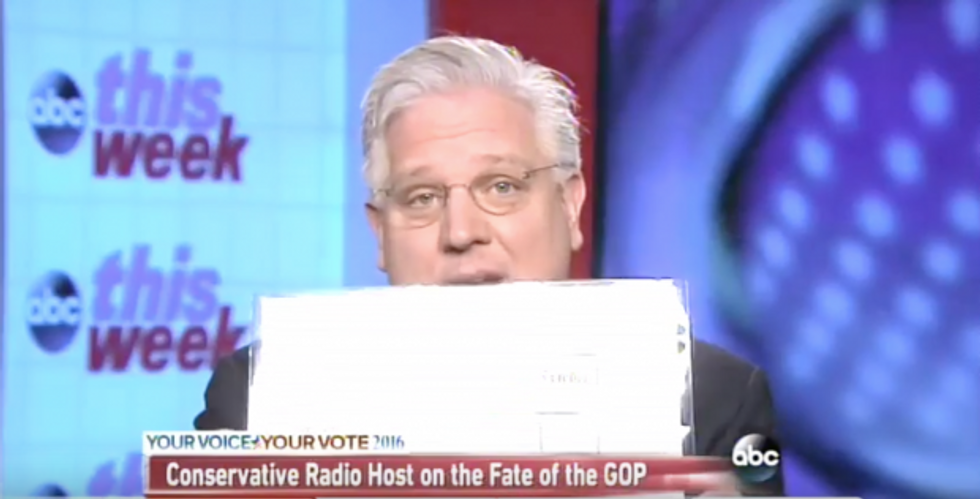 Image source: ABC
"Whoa — Donald Trump is Adolf Hitler?" Stephanopoulos interjected.
Beck responded by saying that Trump has been "playing to the lowest common denominator and to the anger in us" -- but he qualified his claim by suggesting the comparison focuses on who Hitler was in 1929, not the murderous tyrant of Nazi Germany in the 1940s.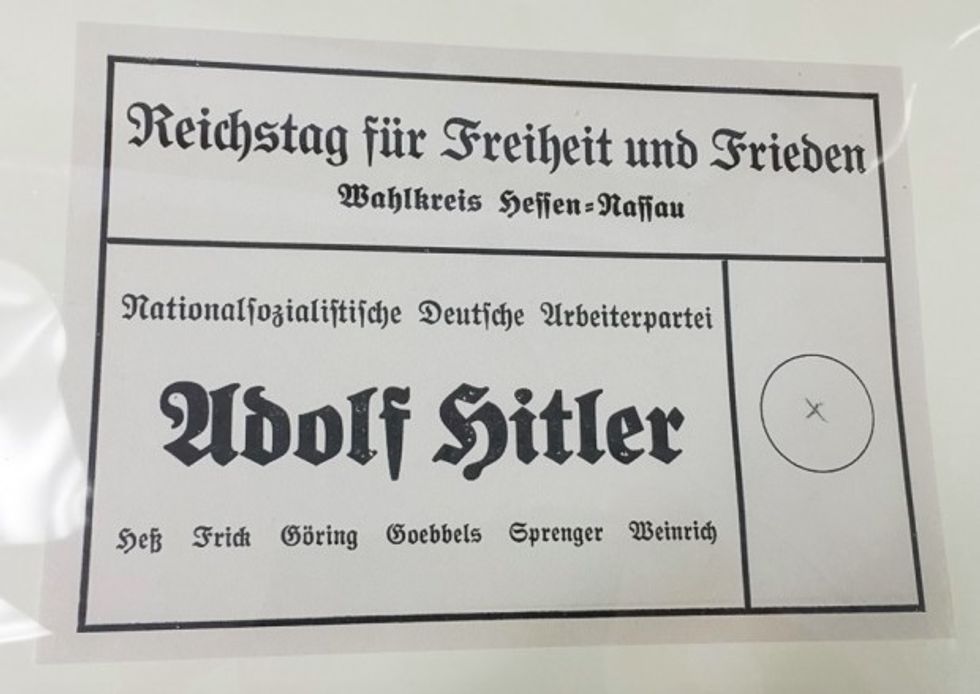 Image source: TheBlaze
"[Hitler] was a kind of funny, kind of character that said the things that people were thinking," Beck said of the leader's early political career. "Where Donald Trump takes it, I have absolutely no idea. But, Donald Trump is a dangerous man with the things he's been saying."
"Now, the GOP is playing unbelievable games right now trying to make sure they get their way and they're trying to go for a brokered convention," Beck said. "I'm against Donald Trump but I'll tell you one thing, if he gets close enough and the GOP tries to play games, I won't vote for Donald Trump ever, but I will stand with his right because the people have spoken."
He asserted that conservatives "don't want a brokered convention," and suggested that in order to prevent a "civil war" within the Republican party, Ohio Gov. John Kasich and Florida Sen. Marco Rubio would have to drop out and make room for Texas Sen. Ted Cruz.
"If those guys would get out, those votes would go right to Ted Cruz."
Watch:
Chairman of the Republican National Committee, Reince Priebus weighed in on Beck's statements later in the show.
"We are going to be 100 percent for the nominee, George." Priebus told Stephanopoulos.
Commenting on the potential event that no one wins necessary delegates for the Republican nomination, he said, "I just don't see that happening. It doesn't mean it's impossible."
Priebus said he hopes the next GOP debate shows an improvement in tone.
---