Sen. Bernie Sanders' comments on race relations during Sunday night's CNN Democratic presidential debate set off a firestorm of consternating social media posts, but a former U.S. congressman decided to do more than just post an angry tweet — he's seeking to get the White House involved.
Former Illinois Rep. Joe Walsh created a WhiteHouse.gov petition Monday that calls for ending institutional racism, starting with Sanders.
"We are petitioning the Obama administration to seize the entirety of white man Bernie Sanders' wealth," the petition states. "This way he'll know what it's like to be black. He should have no issue with this because, as a socialist, he believes it's not his money anyways."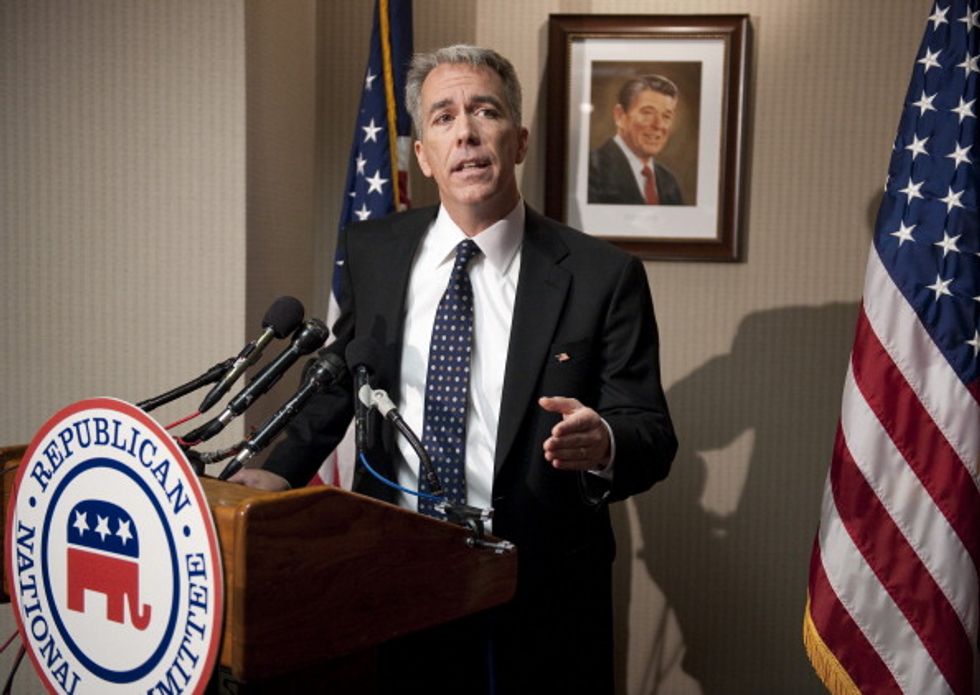 Joe Walsh (Bill Clark/Roll Call)
During the debate in Flint, Michigan, Sunday, Sanders made the claim that white Americans "don't know what it's like to be poor."
"When you're white, you don't know what it's like to be living in a ghetto. You don't know what it's like to be poor. You don't know what it's like to be hassled when you walk down the street or you get dragged out of a car," Sanders said.
In an interview with TheBlaze Monday, Walsh, a firebrand conservative talk radio host, said that he was "not trying to be funny" with the creation of the petition but genuinely wanted to illicit a response from the Obama administration as he found Sanders' comments to be so offensive to white and black voters alike.
"He's offending white people because so many whites in America have struggled and know what it's like to be poor, but he's offended black people, too, because he's basically saying that black people are only poor, only black people live in the ghetto and no blacks live outside the ghetto anymore," Walsh said.
The radio personality continued to criticize Democratic presidential front-runner Hillary Clinton as well for not objecting to Sanders' statement.
"It got to the point where I thought they were pandering so hard for the black vote last night, I expected after one of the commercial breaks, that Hillary or Bernie would come back with blackface on to just let the audience know that they were black, let them know how black they were," Walsh said. "The pandering was just so gross and so sick. The entire debate they were trying so hard to go after the black vote that they literally threw the white vote under the bus."
"What they were doing last night was so offensive, I literally expected Bernie or Hillary to put on blackface," he continued. "It was just ridiculous."
With the petition, Walsh said he hopes to garner the 100,000 signatories needed by April 6 in order to receive a response from the White House to see where it "stands on this notion of only black people are poor."
"So if only black people are poor, Bernie, let's grab every dollar that you are worth, let's grab all of your wealth, let's instantly make you poor, and you will be black, and you'll know what it's like to be black, and that will be a win-win for you because then you'll be black because only black people are poor, and maybe then you'll get the black vote," Walsh said.
"The other thing is, Bernie, lead by example," he continued. "If no white people are poor and Bernie acted like that's a bad thing, well then, lead by example. Be the first white person who has ever been poor. Let's seize all of your assets, let's seize every dollar you're worth, and you will be instantly poor. You'll be the first white man in American who has ever been poor and maybe a bunch of your young Millennial fans will follow suit. And maybe there'll be much more diversity in people who are poor."
Sanders' comments Sunday night received an outpouring of criticism on social media. Even Black Lives Matter activist and Baltimore mayoral candidate DeRay McKesson said that his answer was "solid" despite the "living in the ghetto" part.
Walsh, too, criticized Sanders' use of the controversial term "ghetto."
"By the way, who says ghetto anymore? He's like a 1959 commie who still uses that expression," he said.
Watch Sanders' comment on race during the debate Sunday night below.
Sanders on racial blind spot: "When you're white, you don't know what it's like to be living in a ghetto." pic.twitter.com/ckjMmED1fz

— Mashable News (@MashableNews) March 7, 2016
—
Follow Kaitlyn Schallhorn (@K_Schallhorn) on Twitter