© 2023 Blaze Media LLC. All rights reserved.
Woman Finds $10,000 in Checks on the Sidewalk — Then Uses Discovery to Teach Her Daughter a Life Lesson
"That's a lot of money to lose."
A California mom taught her young daughter a very important lesson about character after she returned a huge chunk of money.
Phyllis Gonzalez told KOVR-TV that she was on her way to pick up her daughter Celestina from school when she came across a stack of checks.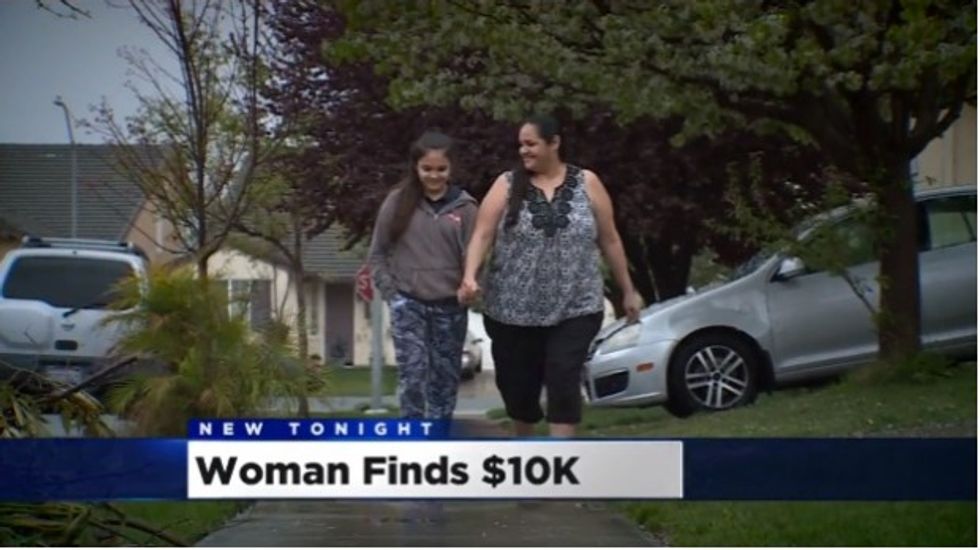 Image source: KOVR-TV
"I was turning right and I looked and I – they looked like checks and I was like, 'Oh, I better stop,'" she said.
According to Gonzalez, the checks were just lying on the sidewalk near the Wells Fargo Bank in West Sacramento. The total was more than $10,000.
"That's a lot of money to lose," Celestina said.
"'We gotta take it back to the bank,'" Gonzalez recalled telling her daughter.
So they did.
"It's awful to just lose something knowing that 'oh I wonder if I'm going to get it back,' you know, just devastating," Gonzalez said.
And she didn't stop there. After returning the money, Gonzalez took to Facebook in the hope of finding the owners of the checks. They were all made out to M&M Lightweight Concrete Company, so she called the business that evening and again the following morning.
Finally, on Friday morning, she reached a woman on the phone who explained how she lost the checks to begin with. The woman said she went to the Wells Fargo to make a deposit, but before doing so, she went over to Starbucks to get a cup of coffee. When she returned to Wells Fargo, she realized she didn't have the checks anymore.
"I was just glad to hear that she was relieved," Gonzalez said.
It's unlikely that Gonzalez would have gotten away with cashing in the checks anyway. Still, she said she went through the trouble of tracking down the checks' owner not because she thought she would be rewarded but so that she could set a good example for her daughter.
Watch:
(H/T: KOVR-TV)
Want to leave a tip?
We answer to you. Help keep our content free of advertisers and big tech censorship by leaving a tip today.
more stories
Sign up for the Blaze newsletter
By signing up, you agree to our
Privacy Policy
and
Terms of Use
, and agree to receive content that may sometimes include advertisements. You may opt out at any time.