According to a new Monmouth University Poll, Florida Sen. Marco Rubio is within single digits of front-runner Donald Trump in Florida's Republican primary.
According to the poll, Trump has the support of 38 percent of likely primary voters, Rubio has 30 percent, and Texas Sen. Ted Cruz 17 percent. Ohio Gov. John Kasich has 10 percent.
While Rubio trails Trump, he leads the Manhattan billionaire 48 percent to 23 percent among "the nearly 1-in-5 voters who have already cast their ballots in this 'early vote' state" while Trump leads a 42 percent to 26 percent "among those who have yet to vote," according to the Monmouth survey's researchers.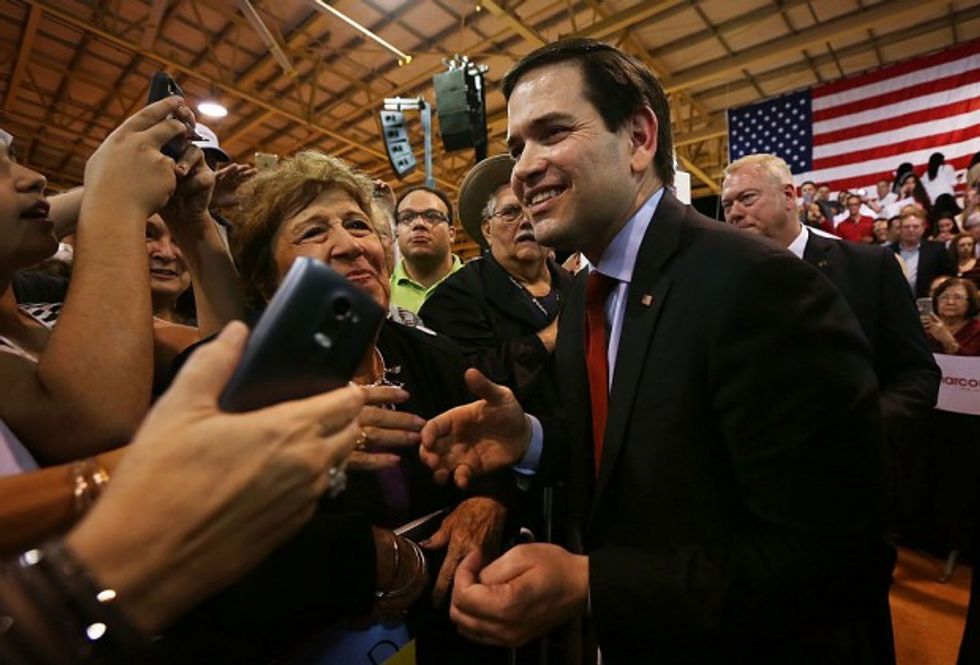 Republican presidential candidate Sen. Marco Rubio (Fla.) greets supporters during a rally at Tropical Park March 1 in Miami. (Alex Wong/Getty Images)
"Rubio is within shooting distance in his home state with a week to go in this volatile nomination contest," Patrick Murray, director of Monmouth University Polling Institute, said in a statement. "It is telling, though, that Rubio is not even the clear victor in a direct face-off with Trump. There goes the argument that Rubio would triumph if only it were a two-person race."
Monmouth noted that in "mano a mano" match-ups between GOP candidates in the Florida primary, Trump and Rubio "are basically tied" in a hypothetical two-person race at 47 and 45 percent respectively, while Trump would defeat Cruz by eight points.
The Rubio campaign wrote in an email to supporters that the new poll "has Donald Trump worried."
"It's one more sign Marco is the candidate to stop Donald Trump," they wrote.
According to a Real Clear Politics average of Florida Republican presidential primary polls, support for Rubio has grown in the days leading up to the primary, while Trump remains in the lead.
—
Follow Kate Scanlon (@kgscanlon) on Twitter