A Trump-branded building in New Jersey is partially financed by wealthy foreign investors who sought visas and eventual permanent residency through a controversial immigration program, according to a new report from Bloomberg Politics published Sunday night.
Trump, the leading GOP presidential candidate, is known for his tough stance on immigration. But the report from Bloomberg asserts that Trump, and his associates, may have relied on wealthy Chinese businessmen to finance several projects in exchange for visas via a program that makes immigration easier for wealthy foreigners.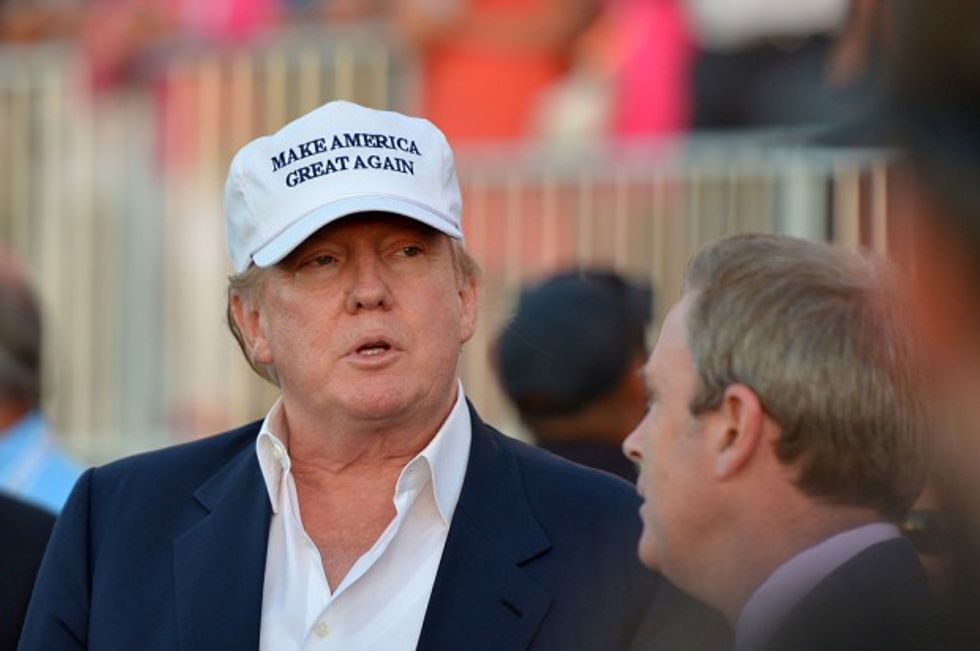 Donald Trump on the 18th hole during the final round of the World Golf Championships-Cadillac Championship at Trump National Doral Blue Monster Course on Sunday. (Getty Images/Drew Hallowell)
The visa program is known as EB-5 by the government. It offers two-year visas to those who invest at least $500,000 to projects that create American jobs. More times than not, recipients of EB-5 visas earn permanent residency in the United States for themselves and their families.
The report cites one project in particular, that of Jared Kushner, who is the husband of Trump's eldest daughter, Ivanka. Kushner, of Kushner Companies, is currently in the process of completing Trump Bay Street, a luxury apartment building in Jersey City, New Jersey.
According to Bloomberg's report, nearly one-quarter of the project's funding, $50 million, came through the EB-5 visa program. Mark Giresi, general counsel of U.S. Immigration Fund, further told Bloomberg that nearly all of the investors are Chinese.
However, a Trump spokesperson told Bloomberg that the Trump Bay Street project is simply a licensing deal — one that has little to no involvement from Trump himself. "This was a highly successful license deal but he is not a partner in the financing of the development," the spokesperson said.
"The money was raised lawfully by the U.S. Immigration Fund consistent with all the requirements of EB-5," added Risa Heller, a Kushner spokesperson. "This program enabled a development that created hundreds of new jobs in an area with employment needs."
Congress is very weary of the EB-5 visa program, according to Bloomberg. Because the program is much more lenient than other immigration programs, many Congressmen have raised concerns over the program in recent years, stressing the need for reforms if the program is to continue.
—
Follow the author of this story on Twitter and Facebook:
[facebook //www.facebook.com/plugins/like.php?href=