In 10 days, the State Department must meet it's congressionally mandated deadline for determining if the killings by the Islamic State should be designated as genocide.
"Obviously, this is something that lawyers at the State Department are taking a close look at," White House press secretary Josh Earnest said Monday. "This designation is something that requires a rather precise interpretation of the law. That certainly does not undermine how seriously we take the atrocities that have been committed by ISIL in Iraq and in Syria."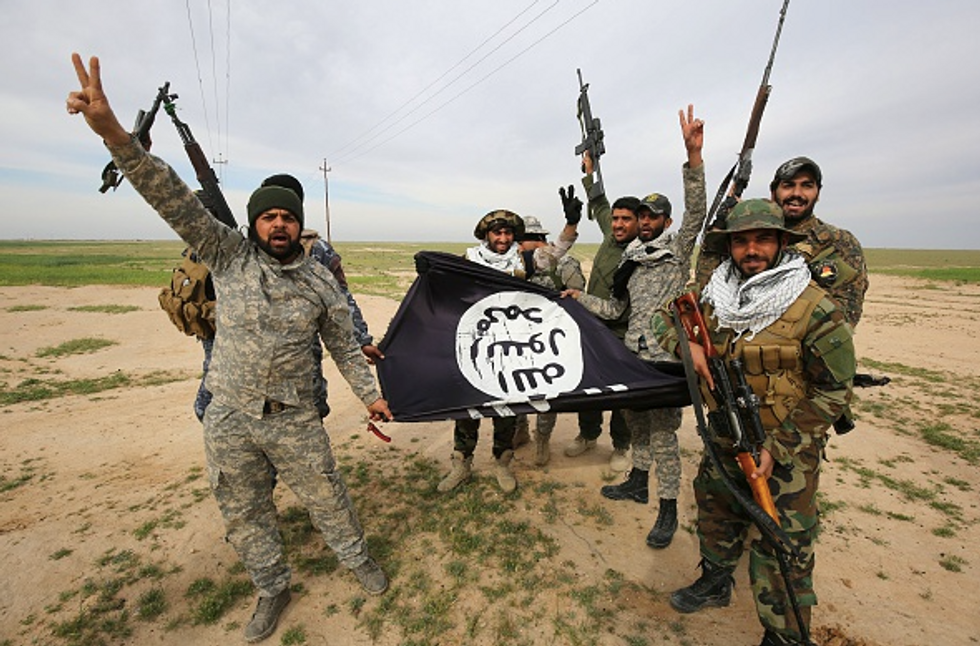 Iraqi Shiite fighters from the Popular Mobilisation units pose with a Islamic State flag Thursday during an operation in the desert of Samarra aimed at retaking areas from IS jihadists. Counter-terrorism forces are taking part in an operation backed by artillery and both Iraqi and U.S.-led coalition aircraft, aimed at retaking areas north of Baghdad, according to the Joint Operations Command. (Ahmad Al-Rubaye/AFP/Getty Images)
The European Parliament has already recognized the killings of religious minorities as genocide. Many American Christians are hoping the United States follows suit on March 17.
The legal questions arise from the Convention on Prevention and Punishment of the Crime of Genocide, which was reached by 147 countries in 1948 and ratified by the U.S. Senate in 1986.
"We've seen people be targeted because they are a minority, either a religious, ethnic or racial minority," Earnest continued. "This administration has taken aggressive steps to protect religious minorities in Iraq and in Syria. We've expressed our view on a number of occasions about Christians being targeted by ISIL because of their religious views. The president has described that as effectively an assault on all people of faith. The president takes that very seriously. We've seen the military action the president has ordered to try to protect religious minorities. This is something the president takes quite seriously. But as it relates on the genocide designation, that's something State Department attorneys will have to take a close look at. I don't want to get ahead of that process."
Under the convention, there are five legal criteria to meet the standard for genocide:
● Killing members of the group;
● Causing serious bodily or mental harm to members of the group;
● Deliberately inflicting on the group conditions of life calculated to bring about its physical destruction in whole or in part;
● Imposing measures intended to prevent births within the group; and
● Forcibly transferring children of the group to another group.