The Florida Highway Patrol released a shocking video Monday of a garbage truck plummeting 75 feet off Interstate 95 in Miami.
Driver Kaseem Smith was ejected from the cab of the truck when the accident happened back in February.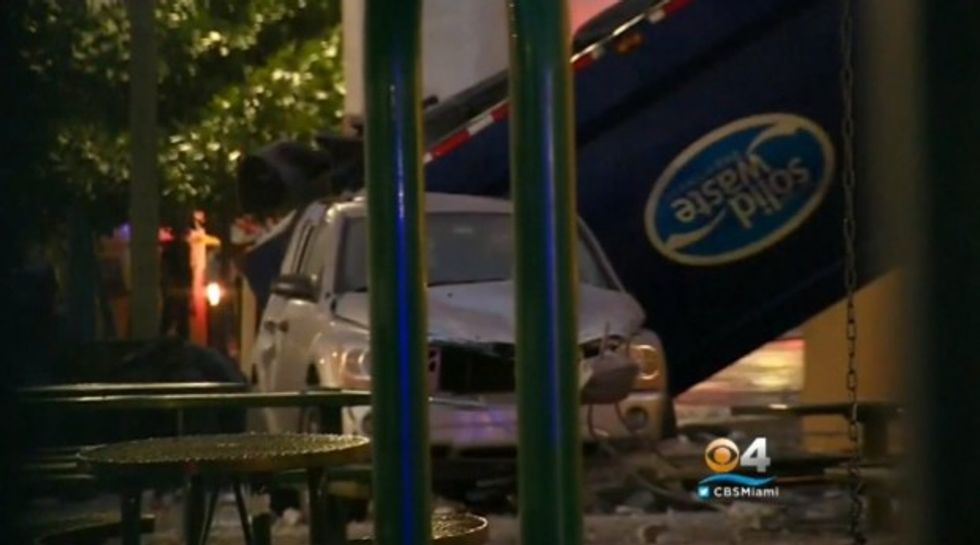 Image source: WFOR-TV
"I have not seen anything like this. It's a miracle he survived this accident," Florida Highway Patrol Trooper Joe Sanchez told WFOR-TV.
The footage from inside the City of Miami garbage truck shows the vehicle hitting a concrete ramp on Interstate 95.
A separate camera angle shows the truck going down a southbound exit ramp from I-95 when Smith lost control, Sanchez said.
"He struck the left concrete wall twice and then he overcorrected according to the video and hit the right concrete wall and fell off the I-95 ramp in to Jose Marti Park and according to our records fell 75 feet into the park and survived," Sanchez said.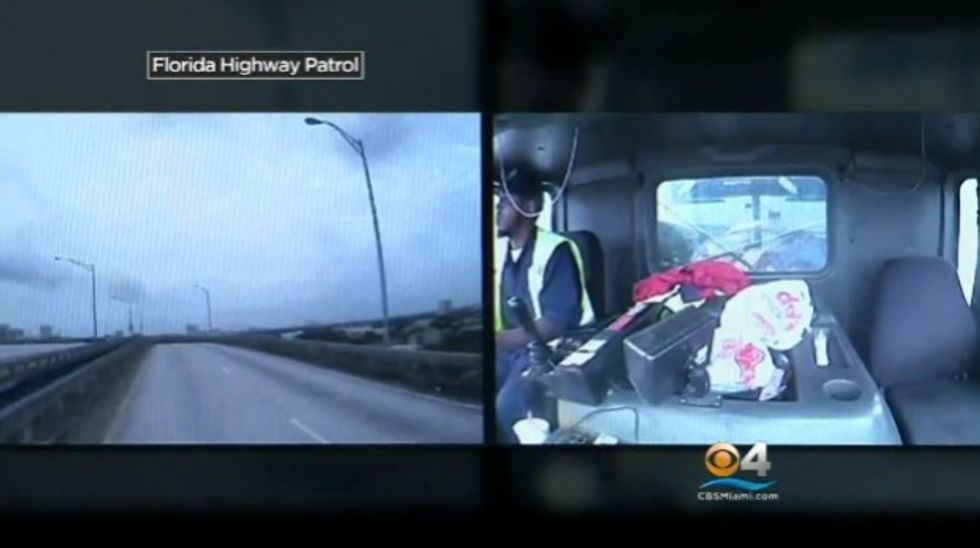 Image source: WFOR-TV
"I saw it in slow motion. It was coming down," witness Jorge Chacon told WFOR-TV. "When it fell down, it sounded like a bomb."
The truck landed between the park's swimming pool building and the community center.
"Thank God there were no kids in the park at the time," Sanchez said. "Throughout this ordeal, the driver almost walked away and was hospitalized and is now home. He is a very lucky man. It is a miracle."
Witnesses were shocked at what they saw, and anyone who views the viral clip is unlikely to forget it.
"I could not believe it. It was like a daydream. It did not feel real. My heart pumped," witness Jorge Fuente told WFOR-TV.
"[Smith] did not have his seatbelt on. He was ejected. So how he survived is something," Sanchez remarked.
Smith has been employed by the City of Miami for nine years. It's not known if Smith was distracted at the time of the crash.
"We don't have any facts to indicate that he was texting. We do not know how he lost control of his vehicle and flew off the I-95 ramp," Sanchez said.
After the accident, Smith received a citation for careless driving and not wearing a seat belt. The footage released Monday was part of an investigation by the Florida Highway Patrol.
Following the video's release, City of Miami officials released a statement on the investigation saying,
We are very happy that Mr. Kaseem Smith has been released from the hospital and that he survived this crash which the video shows is nothing short of a miracle. The recording is proof that this technology works and can provide answers about driving events that would otherwise be difficult to assess. The video shows Mr. Smith was not texting or using his phone and no other vehicle appears to be involved. We are still reviewing this case with Risk Management and Law Departments regarding what steps to follow next.
Watch:
(H/T: WFOR-TV)