Former first lady Nancy Reagan died Sunday in her Bel-Air, California, home, and she spent her last moments with her son-in-law, who visited her often.
When Dennis Revell, who was married to the late Maureen Reagan, former President Ronald Reagan's first daughter from his first marriage to actress Jane Wyman, visited Reagan's California home, he would often bring the first lady her favorite snack — "nut-ball cookies," as she called them.
They are more commonly known as Mexican Wedding cookies.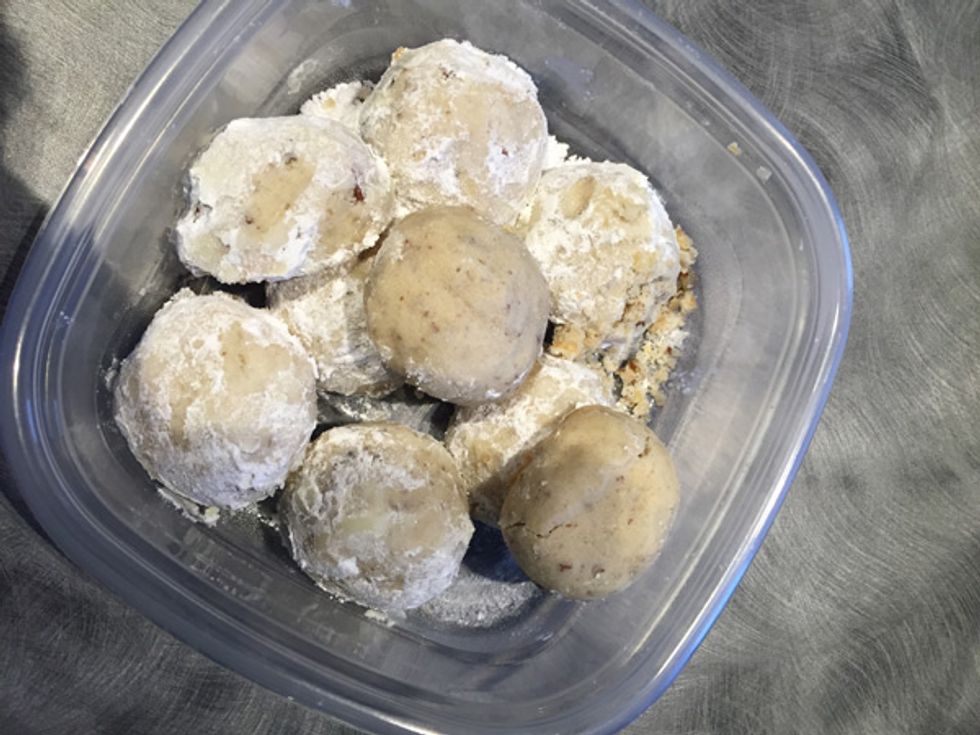 The last batch of "nut-ball" cookies Nancy Reagan enjoyed. (Image: KFBK NewsRadio)
Revell and his current wife, Cindy, drove from their Sacramento home Saturday to Bel-Air to see Reagan, and he brought those cookies with him. They were the last thing she ate before she died.
"It was always something Nancy looked forward to when we came," Revell told KFBK NewsRadio host Kitty O'Neal. "And she loved chocolate chip cookies, and other things, [but] these were her favorite."
Revell said Reagan would often share the cookies with her doctor, who frequently stopped by her house on Saturday afternoons. According to Revell, sharing those cookies was how Reagan would "socialize" with her doctor.
"In the later years in her life, she did share one passion that the president did, and that was a passion for sweets," Revell said. "But her particular food of choice was cookies."
Revell said Reagan's last moments were peaceful, describing his mother-in-law as a "tough lady."
If you would like to make Reagan's favorite cookies, Mexican Wedding cookies, here is the recipe:
1 cup butter

1/2 cup sugar

1 tsp Vanilla

Gradually added:

1 3/4 cup four

1 cup chopped walnuts

Chill dough for 30 minutes

Roll cookie dough into balls

Bake at 375 degrees for 12 minutes

Roll each in powdered sugar
Listen to Revell's interview with O'Neal:
—