One Illinois man is making headlines for the shotgun-toting silhouette he has in his front yard. However, the reason his display is drawing attention has less to do with guns and more to do with what, or whom, the firearm is "aiming" at.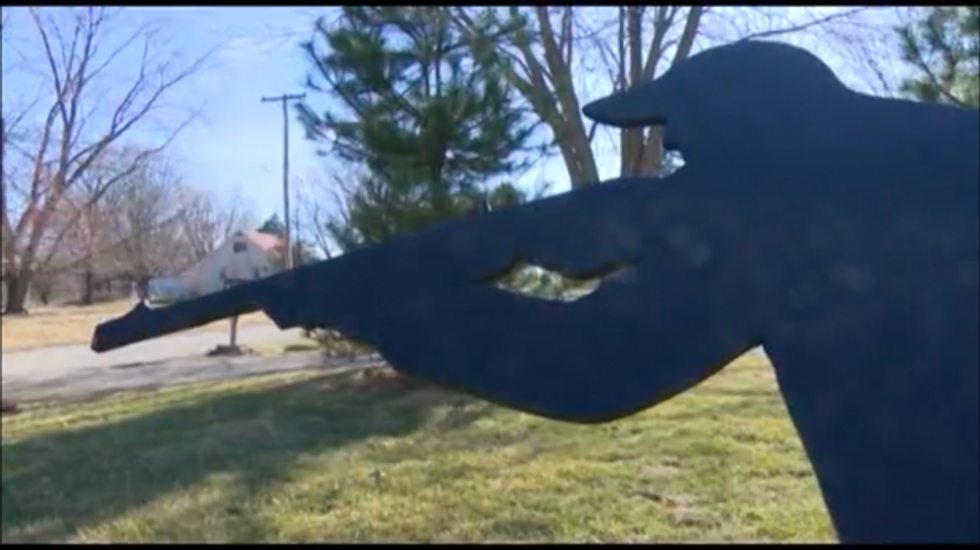 Hunter with shotgun silhouette in Dennis Murdy's front yard. (Image source: WKTV-TV)
Dennis Murdy has created many of these silhouettes, most of which serve as a tribute to the U.S. military and American patriotism, for years. His latest, though, shows a hunter aiming a shotgun at what looks like a person wearing a turban while surrendering.
Murdy said he erected the display over his belief that Islam is "one of the most violent cults" in the world.
"The Muslims and Islam is one of the most violent cults there is. It is not a religion. It's a cult," Murdy told WKTV-TV after receiving complaints from Muslims about the silhouettes. "Their Koran says nothing but violence. You can see what ISIS is doing. They are spreading across the country, and this is biblical."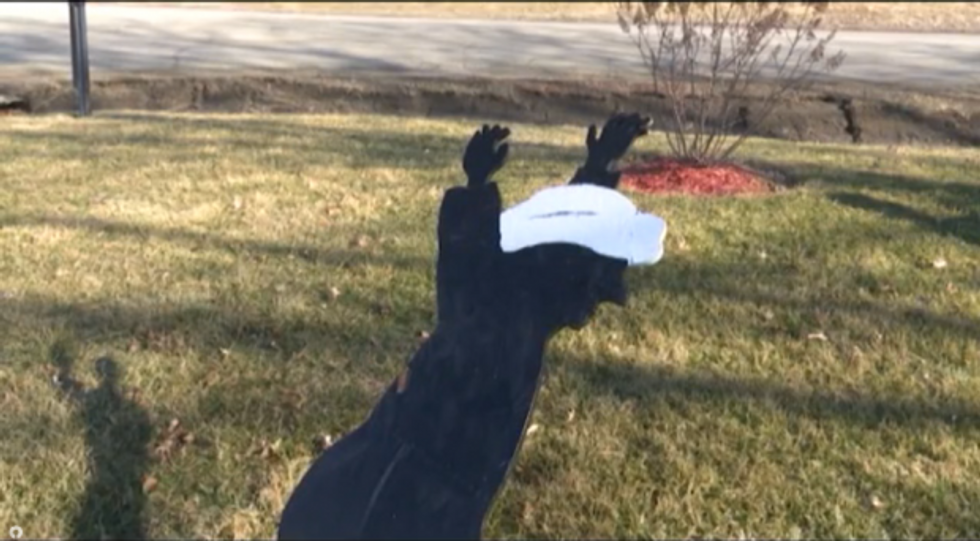 Silhouette depicting surrendering Muslim in Dennis Murdy's front yard. (Image source: WKTV-TV)
Though Murdy said he does not believe all Muslims are violent, he does blame peaceful Muslims for not speaking out against those who adhere to radical Islam. Additionally, he does not feel Muslims should be welcomed in the United States.
Murdy said the controversial silhouettes were "intended to show my feelings" on the current state of the country.
Local Imam Kamil Mufti condemned the display, arguing that it is a sign of "Islamophobia."
"Free speech should not be mixed with hate speech. It's extremely important, and we have to draw that line. If Islamophobia is going to be acceptable, by the same token, anti-semitism and racism would be acceptable. That is wrong," Mufti, who leads the Islamic Foundation of Peoria, told WKTV.
Mufti went on to say that most Muslims in the area do not dress in the way Murdy depicted, adding that the silhouette endangers the Sikhs who do dress that way. When asked if he feels the display is dangerous, Murdy simply said, "Everyone has their own opinion."
Local residents seemed split over the display. Some described it as racist and discriminatory while others said they were glad to see Murdy could express his opinions freely.
"Everybody is always 'freedom of this, freedom of that.' He's using his freedom," local resident Dalan Williams said.
"I don't think it spreads a dangerous message. It's just a terrorist," Mike Mohn added.
Murray said he does not plan to remove the silhouettes anytime soon.
(H/T: Mad World News)
—
Follow the author of this story on Twitter: