On a visit to Israel, Vice President Joe Biden on Wednesday excoriated those who fail to condemn the wave of violent attacks on Israelis — an apparent swipe at Palestinian Authority President Mahmoud Abbas.
Biden also revealed that his wife and grandchildren who accompanied him on his visit had been dining not far from the spot south of Tel Aviv Tuesday night where a Palestinian assailant stabbed to death a U.S. citizen and wounded 12 Israelis.
"Let me say in no uncertain terms: The United States of America condemns these acts and condemns the failure to condemn these acts. This cannot become an accepted modus operandi," Biden told reporters during a press availability with Israeli Prime Minister Benjamin Netanyahu.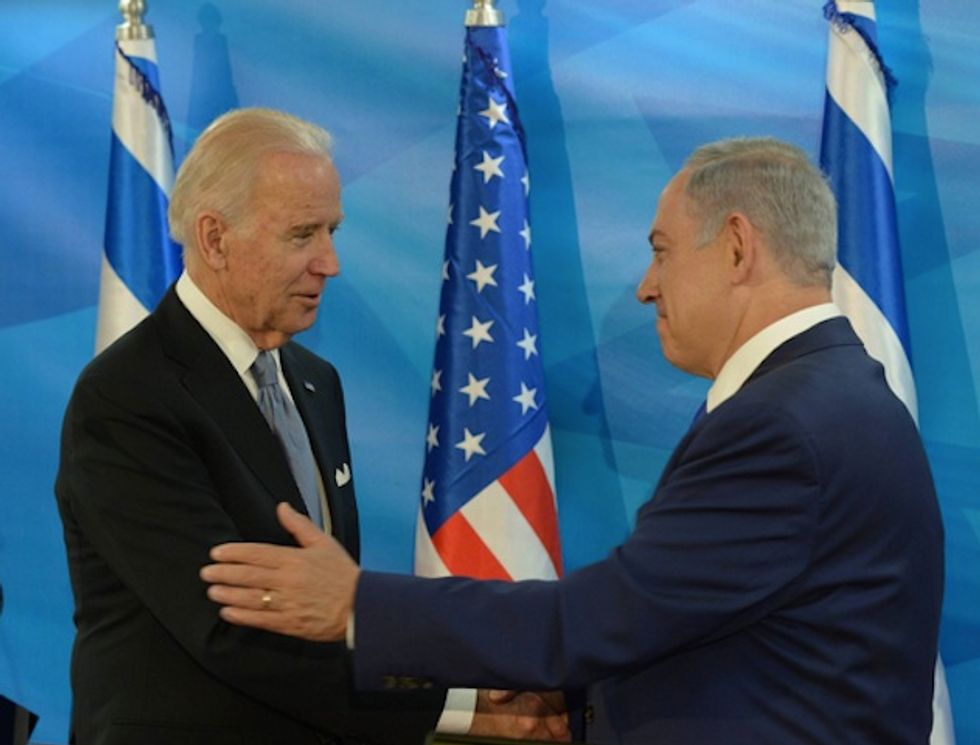 Vice President Joe Biden meets Israel Prime Minister Benjamin Netanyahu in Jerusalem Wednesday. (Prime Minister's Office)
Biden referred to the recent violence as "heinous terrorist attacks."
The vice president told reporters that his wife and grandchildren were having dinner on the beach not far from the attack site in Jaffa, identifying with the sense of vulnerability Israelis have been experiencing.
"I don't know how exactly whether it was 100 meters or 1,000 meters," Biden said, referring to the place where his family was eating, but "it just brings home that it can happen, it can happen anywhere, at any time."
While he did not name the Palestinian leader — whom Israel has blamed for fueling terrorism — Biden said, "This cannot be viewed by civilized leaders as an appropriate way in which to behave."
"It is just not tolerable in the 21st century. They're targeting innocent civilians, mothers, pregnant women, teenagers, grandfathers, American citizens. There can be no justification for this hateful violence and the United States stands firmly behind Israel's rights to defend itself as we are defending ourselves at this moment as well," Biden said.
The incitement "has to stop," he said.
Biden said Taylor Force — the U.S. Army vet who had served tours of duty in Iraq and Afghanistan and who was stabbed to death Tuesday night — had a "brilliant future."
On a more personal note, Biden told Netanyahu that the first place he has taken his children and grandchildren as they approach the age of 15 is to the Dachau concentration camp in Germany and to Israel.
"They're not too young to understand," Biden said of his 10- and 12-year-old grandchildren. "This is a commitment that goes deeper than security."
Netanyahu asserted that Abbas' Fatah Party had praised Tuesday night's killer.
"Unfortunately, President Abbas has not only refused to condemn these terrorist attacks, his Fatah Party actually praised the murderer of this American citizen as a Palestinian martyr and a hero," Netanyahu said.
Indeed, the official Palestinian Authority television station appeared to praise the attack that killed the U.S. citizen, calling the assailant a "martyr."
The Middle East Media Research Institute translated an excerpt in which a reporter said the "martyr" had carried out "a complex operation in which 12 settlers were wounded" and that "one of them, according to Hebrew sources, was an American tourist, who was killed."