A New Zealand church is sending a controversial message about Donald Trump, releasing an Easter-themed billboard this week that takes direct aim at the Republican presidential candidate and his signature claim that his critics are "losers."
The Community of Saint Luke, a house of worship in Auckland, New Zealand, is sure to spark some furor with the contentious, cartoon-themed billboard that "depicts the Republican presidential hopeful looking across a scene of Jesus Christ nailed to a cross, while holding a hammer in his hand and declaring 'I don't like losers,'" reads a press release posted to the church's Facebook page.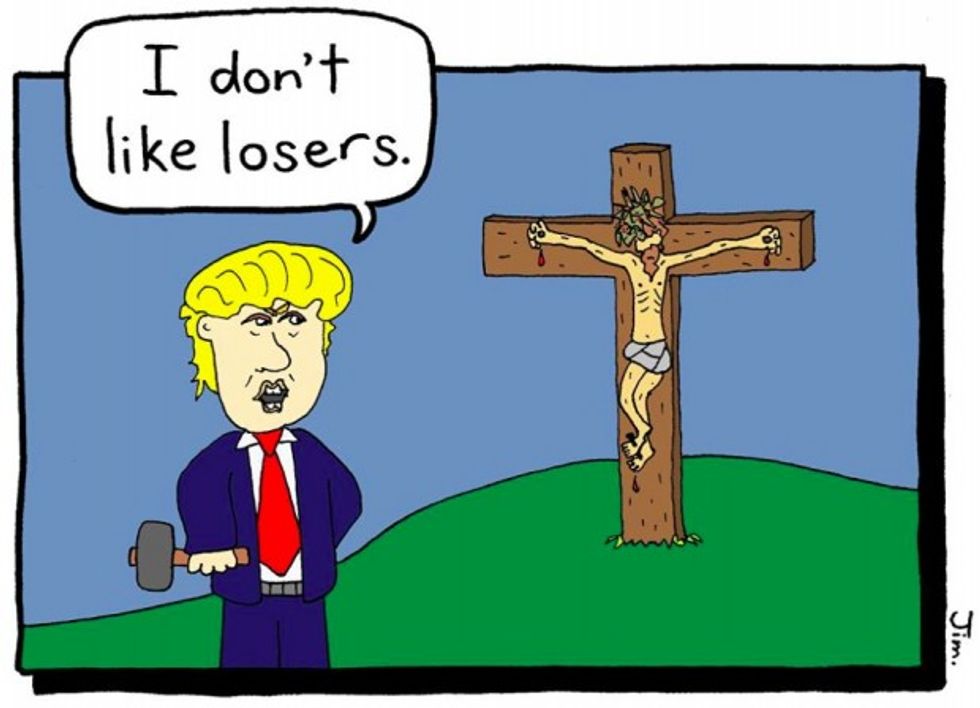 A billboard from St. Luke's church in New Zealand that takes direct aim at Donald Trump (Facebook/The Community of Saint Luke)
Glynn Cardy, minister of The Community of Saint Luke, said in a statement that the image is intended to take aim at Trump's penchant for name-calling — something that Cardy believes runs counter to the biblical narrative.
More specifically, Cardy took aim at Trump's past comments about women, Mexicans and Muslims, saying that Jesus Christ "sided with minorities and those who were most vulnerable" and that this is what "got him killed."
"For those of us at St Luke's, the cross is about politics. Jesus was killed – violently, publically and shamefully – because he spoke truth to power and confronted the leaders of his day about their treatment of the outcasts," he said. "To the Trumps of his day, and to those who see winners as having money and power, the Jesus of the Bible was a loser who associated with those rejected by society. And he died broke."
Cardy said that the billboard will remain up throughout Easter and until uncertainties surrounding whether Trump will be the Republican nominee are cleared up.
He's hoping that U.S. voters "see Trump's message for what it is" and decline to make him the GOP nominee.
--
Follow the author of this story on Twitter and Facebook: