LANSING, Mich. (TheBlaze/AP) — Bernie Sanders breathed new life into his longshot White House bid with a crucial win in Michigan's primary Tuesday night, chipping away at Hillary Clinton's dominance in the Democratic presidential race.
Even with Sanders' win, Clinton and GOP presidential frontrunner Donald Trump moved closer to a general election face-off. Clinton breezed to an easy victory in Mississippi, propelled by overwhelming support from black voters, and she now has more than half the delegates she needs to clinch the Democratic nomination. Trump, too, padded his lead over Texas Sen. Ted Cruz, who carried the Idaho primary.
"Not only is Michigan the gateway to the rest of the industrial Midwest, the results there show that we are a national campaign," Sanders said in a statement following the Michigan victory. "We already have won in the Midwest, New England and the Great Plains and as more people get to know more about who we are and what our views are we're going to do very well."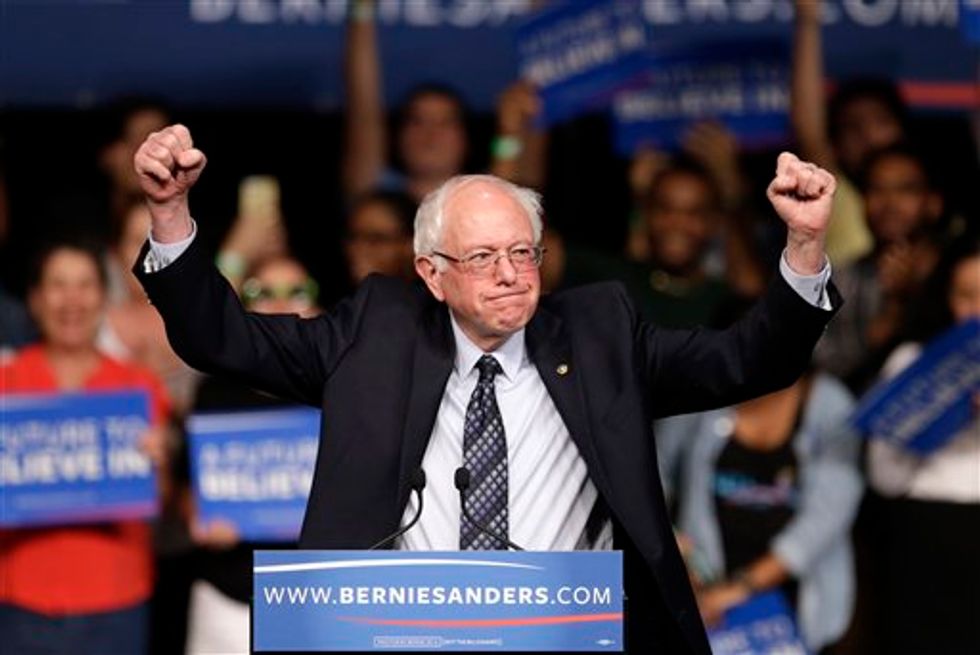 Democratic presidential candidate, Sen. Bernie Sanders, I-Vt. acknowledges his supporters on arrival at a campaign rally, Tuesday, March 8, 2016, in Miami. (AP Photo/Alan Diaz)
Sanders' victory in Michigan came as a surprise as polls showed him far behind Clinton as the candidates headed into Super Tuesday Two.
The Republican National Committee didn't miss the opportunity to slam Clinton following her loss in Michigan as RNC Chairman Reince Priebus suggested that "alarm bells should be going off in Brooklyn" Tuesday night. 
"The fact Clinton continues to lose states, as well as key elements of the Obama coalition she's trying to recreate, is a major warning sign for her viability in a general election if she becomes the nominee," Priebus said in a statement.
The economy ranked high on the list of concerns for voters in Michigan and Mississippi. At least 8 in 10 in each party's primary said they were worried about where the American economy is heading, according to exit polls conducted by Edison Research for The Associated Press and television networks.
Among Democrats, 8 in 10 voters in both states said the country's economic system benefits the wealthy, not all Americans.
Sanders has sought to tap into that concern, energizing young people and white, blue-collar voters with his calls for breaking up Wall Street banks and making tuition free at public colleges and universities. Michigan, with big college towns and a sizeable population of working-class voters, was a good fit for him, though something of a surprise victory given that Clinton had led in polls heading into Tuesday's voting.
Still, Sanders has struggled mightily with black voters who are crucial to Democrats in the general election. In Mississippi, black voters comprised about two-thirds of the Democratic electorate and nearly 9 in 10 backed Clinton.
After Tuesday's results, Clinton has accumulated 1,214 delegates and Sanders 566, including superdelegates. Democrats need 2,383 delegates to win the nomination.